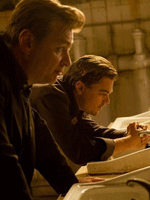 Now that the review embargo walls have crashed on "Inception" (though most of what's out there is web-based media as we'll wait a while for print reactions), I guess it's fair to dive into the awards implications of the film.  I preferred to stay away from that kind of talk in my review.
The first thing that comes to mind when I think of the history of Best Picture nominees is the fact that, on some level, they are fairly undemanding efforts.  There's a pattern of simplicity of narrative, regardless of genre.  Now, most seem to think the general positive assessment Nolan's film has received should be enough to get it into a field of 10 nominees, but I'm a touch skeptical.
"Inception" is anything but undemanding.  It's a cerebral exercise that will have some recalling Robert Downey Jr.'s swipe at "The Dark Knight" a few years ago: "I clearly need a college education to understand this movie."  We all remember Nolan's superhero epic did not make the cut with five slots.  And the thought process for some is, well, it's time for AMPAS to kiss and make up.  Except that's not the typical AMPAS thought process, and certainly not for a still youngish talent like Nolan.
I'm not here to piss in anyone's cornflakes, but I just don't think anyone can simplify the argument to, "It's sure to get in with 10."  That's the position Gregory Ellwood, among others, is taking (though much of his piece is certainly shrewd and spot-on).  Meanwhile, Steve Pond notes, "It's hard to imagine that voters won't find this one thrilling enough to put it in the 10, and in quite a few other categories as well."
Alright, let's consider that.  "In quite a few other categories."  That's the key language.  While I do expect "Inception" will be a favorite (read: #1 slot) film to a great many voters, I think it will take the infinite respect any below-the-line type with a brain is sure to give it in order to push past things like plot confusion, genre bias and good ole' fashioned stubbornness.  And Pond also smartly indicates that "the bigger point might be that it's enjoyable even if you don't comprehend the whole thing," which is what I'm getting at in my review when I write that the film succeeds by "conjuring enough cerebral hocus pocus to avert attention from its weaknesses."
Sasha Stone is a bit more reserved in calling it a sure-fire awards thing.  And I think that's smart.  There are already whispers that the film may be overwhelmed by "Salt" box office just a week after release, but my position is that "Inception" will need a savvy campaign and a heck of a dent at the box office (which it could get with great word of mouth) to overcome some of these hurdles.  Maybe I'm not giving AMPAS enough credit, I don't know.  But every time I say that…
A few things are certain.  The film will be well-represented in the crafts categories.  I've already praised a number of the below-the-line personnel, but let me also raise a glass to Richard King, Lora Hirschberg, Gary Rizzo and their crews in the sound department.  This film has some of the most penetrating, effective sound design of any I've ever seen (or, heard).  Nominations in both sound categories had better be coming.  I'd also expect nominations for Best Visual Effects and Best Film Editing.  So that's four, easy.
The art direction is oh so deserving, but being a contemporary piece (however complex, unique and effective), it's not a given.  And as much as I love Pfister's work, it doesn't have the same painterly approach as the three films that netted him nominations in the past.  So that could keep it off easy street.  Then again, Lee Smith's editing at times plays up the photography to magisterial levels.  Hans Zimmer's score, meanwhile, is so much better than the snippets we revealed over the weekend lead you to believe.  It's so skillfully edited into the mix and hits more than a few emotional high marks, but I can never be sure with that branch.
So that's a "maybe" on three categories.  Now, there is one instance of skillfully crafted makeup on display, and I refuse to go into specifics because it plays into plot details you don't want spoiled (even if you do see it in the first scene of the film).  But even so, I don't think one scene will be enough.  And the costume design, however perfect to the piece, will, of course, go unrecognized by a branch that prefers extravagance.
Moving into the main categories, I really don't think there is much of an actors branch play outside of Leonardo DiCaprio, and he will have Martin Scorsese's "Shutter Island" tearing a few voters away.  Some would call Marion Cotillard's performance a good bet in the Best Supporting Actress field, but I'm not sure there's enough to stick.  However, I imagine a campaign from her intrepid handlers is already being devised.
That leaves the big three: Best Picture, Best Director and Best Screenplay.  On Best Pic, I've made my points.  I think this cannot be a film that drifts away under the onslaught of latter-summer entries and still make it into contention.  And I wonder if it will confuse too many voters.  But Best Director SHOULD be a no-brainer.  The film reeks of Nolan's commitment at the helm and is an auteur feast in some sense.  Surely his fellow directors will think as much, right?  Well, where were they two years ago?
As for Best Original Screenplay, again, where were the writers two years ago?  And this is frankly a lesser script than "The Dark Knight" on the basis of thematic resilience, even if it is a more sophisticated script on the basis of structure.  I would not be surprised if it was snubbed, and yet I would not be surprised if it wins every single original screenplay honor throughout the circuit.  Chalk it up as one more "maybe" in my book.
So those are my honest thoughts on the Oscar potential for "Inception." I loved the film.  Many do.  But just when I think something is written, without fail, the season tells a different tale.  I'll remain cautious.  Maybe "Inception" will sweep the industry completely off its feet and everyone will bow down, whether they understand what they saw or not.  I'm sure it will happen to some (a magic trick worthy of Alfred Borden).  And maybe the ambition will have filmmakers in the same awe they were in last year due to James Cameron's "Avatar." But it's always dangerous to go on the reactions of the converted, and that's all you're likely to read on the film for the next week or so.