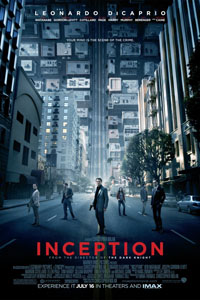 In reviewing 2008's "The Dark Knight," I wrote that director Christopher Nolan "has made a brief career of exploring characters built upon their somber, in some instances twisted pasts, however distant or immediate." The theme continues with "Inception," a film like nothing you have ever seen before that plays out like a two-hour therapy session, wrapped in the accoutrement of a heist film and bathed in the panache of an entirely immersive cinematic experience.
The hero is Dom Cobb (Leonardo DiCaprio), a man trying to find his way home, to paraphrase the filmmaker. But is home just a dream, some fantasy trapped in the "what if" corridors of his mind? Or is it possible that maybe through one final job of contrived gobbledygook he might find his way to the life he was forced to flee years before?
Cobb's black market profession is "extraction," a type of mind theft dependent on dream manifestation technology developed by military intelligence for training purposes. If you want someone's secrets, Cobb's your man. For a price, he and his crew will go into the individual's subconscious and bring it to you on a silver platter. But it's a dangerous job, given the complexities of the process, not to mention the complexities of dealing with the kind of people who'd pay for such a thing.
Nolan's screenplay carefully drops the viewer into the action as Cobb meets with Saito (Ken Watanabe), a businessman interested in the reverse of extraction: "inception." Saito's proposal is to breach a rival CEO's (Cillian Murphy) mind and plant an idea that appears to be in his own best interests, but is glossed over as perhaps a necessity for the greater good. But inception is impossible, or so Cobb's associate, Arthur (Joseph Gordon-Levitt), maintains. Inspiration cannot be faked, and what an excitingly unique early theme that promises to be.  (The film abandons it in favor of other explorations.)
But Cobb knows better. And the dangling of a carrot — the promise of making his unfortunate past disappear and ensuring him a safe return Stateside — is all it takes to get him on board.
From there the film takes off. Cobb assembles his team, including Ariadne (Ellen Page), the architect of the dreamworld they will manifest; Eames (Tom Hardy), a forger of personas who can lead the subject this way or that; Yusuf (Dileep Rao), a sedative specialist; and, of course, right-hand man Arthur. But danger lurks as Cobb's increasingly unstable psychosis from past trauma threatens to undermine the mission, and maybe even his own grasp on reality.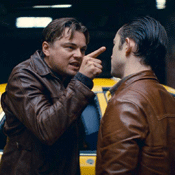 Every single moment of "Inception" is more gripping than the last. It's the kind of film Freud, or more likely Jung, would have delighted in deconstructing.  Nolan takes a leap of faith with his audience, trusting them to keep up with the screenplay's labyrinthine structure while at the same time conjuring enough cerebral hocus pocus to avert attention from its weaknesses.
More importantly, the film is about something, very much concerned with nuances in character and behavior that elevate material like this to another level.  Nolan springs for Cobb as a complicated, at times ambiguous individual, rather than a do-no-wrong protagonist the audience can blindly trust and comfortably follow.  Care like this makes a journey worth taking as Nolan weaves something close to a participatory narrative for the audience to experience rather than observe, all leading to a brave final image that will surely leave audiences discussing an array of implications.  But while the director deserves plenty of credit for his dense vision, the department heads he's recruited will hopefully not become unsung heroes of the piece.
Lee Smith's film editing, for instance, navigates a series of dreamscapes with a slick skill-level deserving of an Oscar. (Seriously, cased closed as far as this viewer is concerned.) Chris Corbould's digital and practical effects wizardry, in tandem with Guy Dyas's awe-inspiring production design, paint a cinematic portrait unlike any other. Hans Zimmer's subwoofer-thumping score oozes ominous intensity while mingling with delicate themes. And, of course, Wally Pfister's camera captures the unfolding elements with a grace that has come to be a trademark of one of the most talented working lensers in the business.
But like "The Dark Knight," this re-defining genre effort succeeds in spite of a few problems. Nolan's superhero sequel was packed with complex ideas on a broad, bloated canvas. This time he's concerned with ideas no less complex, but they are bridled by plot holes and the simplicity of contrivance on more than a few occasions. And the third act, while a master class in sequence construction, is nevertheless an assault on the senses that can be numbing.
In short, the director may still be closing in on the sweet spot in his newly traveled blockbuster career path. But "Inception" is a movie so vibrant, so alive, so relentlessly original that it can be forgiven its transgressions in an instant. It's an entertainment with vivid, profound ideas, precisely the kind of daring that ought to be backed by big money. And Nolan has more than earned that sort of risk from Warner Bros. and finance partner Legendary Pictures.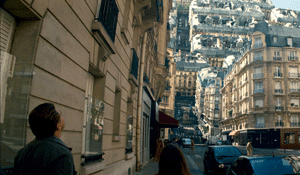 Moreover, this  could be the film to solidify the director's place among the modern masters. "The Dark Knight" made its mark on pop culture, yes, but "Inception" doesn't carry the (however unfair) stigma of being based on pulp fiction. It could leave a footprint far more important on the industry: the fulfilled promise, perhaps thanks to a thinly rewarding summer movie season, that expensive, thoughtful, original filmmaking can pay dividends.
With that in mind, when the film hits theaters July 16, you could do a lot worse than showing up with your wallet and telling Hollywood, "More of this, please."
(You asked for it, so I gave it to you. Therefore, mark "Inception" as the last film I reviewed in a formal capacity in this space. It was worth it to give it one more go on something this inspiring.  Everything will be informal commentary from this point forward.)