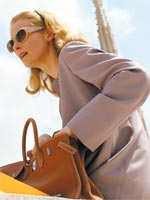 A few weeks ago, I commented upon the scarcity of viable awards contenders released in the last six months, coming to the unsurprising conclusion that there hasn't been much to, well, comment upon. In the past few days, however, Variety's Tim Gray and EW's Dave Karger have revisited the subject … and haven't come up with very much either.
A common emerging sentiment is that, with such a meagre first-half slate, filling 10 slots on a Best Picture ballot could be a challenge for many voters – and could ultimately result in a decidedly weak nominee field, one with more "Blind Sides" than "District 9s."
Sasha Stone has challenged this by suggesting that, in what she (if not everyone else) believes will be "a great year for film," the Academy may end up looking to arthouse or non-summer genre fare to fill the gaps – though, to take two of her listed alternatives, it has to be said that while most critics would be down with "Winter's Bone" making the list, "Shutter Island" would be a much more contentious nominee.
Amid the naysaying, a glance at the overlaps in Gray and Karger's pieces reveal a handful of likely nominees that most would be happy with. "Toy Story 3" looks comfortably on course for what could become as perennially automatic a berth in the Best Picture derby for Pixar as the one Meryl Streep enjoys in Best Actress – as long as The Law of Ten remains in place. "How to Train Your Dragon" in Best Animated Feature, Jennifer Lawrence in Best Actress, acting, writing and possibly Picture noms for "The Kids Are All Right" – sure, nobody's arguing otherwise.
You've heard all those names before, and we don't really need to discuss them again until later in the year, when we can see if they still stack up against fall's prestige offerings – some of which, like "Another Year" and "Blue Valentine," have already been seen and approved on the festival track.
But dig below the consensus candidates and a few more wayward possibilities emerge: some intriguing, some merely puzzling. (In the latter category, I would put Karger's suggestion of Vanessa Redgrave as a dark-horse contender for slumming it in critically dismissed chick-flick "Letters to Juliet." If we're going there, let's at least start a Supporting Actress campaign for Taylor Swift, for being the one human element of "Valentine's Day.")
Under the "intriguing" pile, however, we have a title listed by Gray, the Italian-language "I Am Love" – not a favorite of mine, but adored by the critical majority, and a reasonable crossover success, thanks to the presence of Tilda Swinton in the lead. Needless to say, a heavily stylized foreign melodrama faces an uphill climb with mainstream awards bodies — but when looking for first-half long shots, an unusual item with a passionate following is often a better bet than a softer sell (let's say Nicole Holofcener's "Please Give") that is liked by many but revered by few.
Whether Italy will submit it for the foreign-language race (and whether that tricky voting branch would even bite if they did) is anyone's guess. (Nathaniel Rogers contemplates this, and other foreign options, here.) In any event, John Adams's (non-original, sadly) score is one of the year's most talked-about so far, and Swinton's performance is strong enough to merit some outside Best Actress discussion. (Any such discussion should chide awards bodies everywhere for blanking her superior work last year in the less accessible "Julia.")
Gray also points out that while we're still waiting for 2010 to find its feet in terms of narrative features, it's already off to a racing start on the documentary side of things. Indeed, between the likes of "Restrepo," "Inside Job," "Waiting for Superman," "Countdown to Zero" and lighter crowdpleasers like "Exit Through the Gift Shop" and "Joan Rivers: A Piece of Work," it's already possible to put together a credible slate of nominees for the documentary Oscar – though past form suggests we should expect at least a couple of those titles to be controversially snubbed.
More adventurously, Stone wonders if one such doc could go so far as to crack the Best Picture lineup. She's plumping for Charles Ferguson's Cannes hit "Inside Job," but after seeing the more unique and emotionally involving "Restrepo," I'd hesitate to call Ferguson's film a frontrunner even in the ghetto race. Still, until "Inception" supposedly saves summer, and Venice and Toronto show their hand, it's nice to have at least one category with more than two balls to juggle.