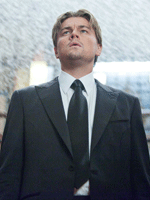 It's fascinating to me, the similarities between Leonardo DiCaprio's two 2010 endeavors, Martin Scorsese's "Shutter Island" and Christopher Nolan's "Inception" (which I will review in short time).  The themes and considerations in both have the same blood pumping through their veins.
I'm talking about ideas of repressed trauma, avoidance of reality, the impact of children on a psychology, the kinds of things you don't often see handled delicately, if at all, in blockbuster entertainment.  It's a profound coincidence, really, one that further reveals an ambition in DiCaprio's career choices that shouldn't go without commendation.
I think his work in "Shutter Island" is more powerful, more complete, more assured.  And despite ignorant jabs accusing the actor of being "stuck in a Scorsese rut" as of late, he and the 40-year veteran have managed to make each collaboration unique and fresh.  And by the way, he's very much up to the task under Nolan's helm as well.
So mark this as an appreciation.  DiCaprio has always been a forward thinker, never content to rest on laurels or take an easy paycheck.  He doesn't get enough credit for that.