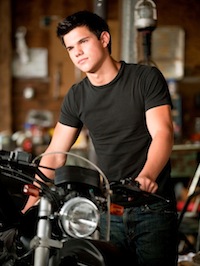 *All historical figures cited are adjusted to today's dollars.
Are you guys seeing this Uruguay-Ghana game? Unbelievable finish. But it's Independence Day weekend and we are supposed to be talking about all things American. Like sissy vampires and casting obviously foreign parts movies with good old white actors!
The weekend will go long with most people getting Monday off and it's actually already begun with "The Twilight Saga: Eclipse" opening on Wednesday and "The Last Airbender" debuting yesterday. Let's start with the record breaker. The latest installment of Stephanie Meyer's abstinence trilogy debuted on the largest number of screens ever, only nineteen months after the first film came out and shocked the industry. It earned $30 million in midnight screenings alone and chalked up a $68.5 million opening day.
That's the fourth biggest single day gross in history and a little behind the all-time champ and previous "Twilight" entry, "New Moon" and its $76.0 million. Taking away the midnight rush, we're looking at a Wednesday gross of $38.5 million for "Eclipse" and then a Thursday of $24.2 million. Definitely starting a slow slide, but not disastrous. Almost $100 million in the bank already and we have a long weekend ahead of us where "Eclipse" could feasibly earn another $100 million.
When Supreme Court nominees are being asked if they are Team Jacob or Team Edward, it's start to officially recognize a movie as being more than a fluke success or even just images on a screen. "Twilight" is a part of history now so if that kind of thing bothers you and you need to go sulk at your PS3 or vote it a sight-unseen 1 on IMDb, now's a good time.
M. Night Shyamalan's latest valiant attempt to earn the first negative rating on Rotten Tomatoes, "The Last Airbender" got off to a decent start yesterday. $16.4 million is actually in the top 30 ever for a Thursday gross and proves that there was an audience anticipating this thing. Word of mouth will no doubt be toxic and if it can earn $30 million for the weekend, it'll have to be considered a small success. The budget was $150 million or so (white actors aren't cheap ya'll), and it will have to do well overseas to make any money.
What else is there to expect this weekend? I'd bank on "Toy Story 3" posting a good hold and possibly earning another $40 million. "Grown Ups" should fall around 40-45% while "Knight and Day" will have to hold up with a maximum drop around 40% to get itself out of the disappointment category. Incidentally, I walked in on ten minutes of "Grown Ups" and they were excruciating. When Colin Quinn is the funniest part, you know there's serious trouble.
Also, special congratulations goes to "Jonah Hex," which shred 2,475 theaters off of its screen count, the second largest figure ever behind "Meet Dave."
What are you guys seeing this weekend?