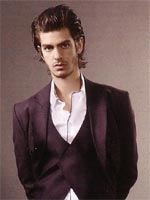 Yes, the franchise reboot — to be helmed by Marc Webb of "(500) Days of Summer" fame — has finally settled on a leading man, and it's the 26 year-old, red-haired Brit Andrew Garfield.
I can't say I saw that coming, but it's a welcome surprise. I've been predicting big things for Garfield for some time: he came fourth on my list of the industry's best under-30 actors last year. This, however, should accelerate that progress big-time.
Some of you will know him from "The Imaginarium of Doctor Parnassus" or "Lions for Lambs," but Garfield's most impressive work so far has come in British TV projects (that were nonetheless released theatrically Stateside) "Boy A" and "Red Riding: 1974."
This year should really announce him as a big screen presence, with hefty roles in both "Never Let Me Go" and "The Social Network" waiting in the wings. It's interesting that the studios have once more opted for actorly credentials over teen-idol status: Tobey Maguire's CV was similarly high-end (if a little more advanced) when he first donned the suit in 2002.
A statement from Sony and Columbia Pictures chiefs (via Anne Thompson) as follows:
Spider-Man is a classic superhero—a young man who balances his responsibility to serve humanity and crush evil with the shyness and normalcy of someone struggling to find himself. The role demands an extraordinary actor. You need someone who can magically transform himself from Peter Parker into Spider-Man. An actor who will depict the vulnerability of youth and the strength and confidence of a legendary figure at the same moment. We have found that actor in Andrew Garfield. From the first time we saw him in the upcoming film The Social Network, to his glorious screen test, which floored all of us, we knew that we had found our new Peter Parker.
Your thoughts? No complaints (for a change) on this end.