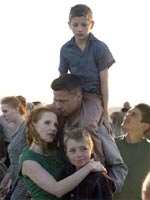 Things looked so upbeat for fledgling distribution outfit Apparition when they started out last year. Masterminded by former Picturehouse head Bob Berney, the company was christened with the acquisition of one of 2009's best films, Jane Campion's "Bright Star." A classy roster of titles followed, including "The Young Victoria," "Fair Game," "The Runaways" and, most eagerly awaited of all, Terrence Malick's "The Tree of Life."
They didn't quite know what to do with everything they had — "Bright Star" was unfortunately buried by ill-thought scheduling and idle marketing — but they did manage to eke out an Oscar win for "Victoria" before their first birthday, and also nabbed one of the starrier titles at this year's Sundance fest: the Kristen Stewart and James Gandolfini starrer "Welcome to the Rileys." Not bad going, particularly in the current indie climate.
How quickly things change in Hollywood. Just before Cannes, Berney caught industry watchers off-guard by pulling out of Apparition, and the company has been reeling from the shock ever since. Anne Thompson reports that co-founder Bill Pohlad has taken the drastic measure of shutting down their New York office and nearly halving the staff.
Meanwhile, Apparition have been giving away their titles left and right: "Fair Game" was handed over to Summit some time ago, while Samuel Goldwyn Films has inherited "Welcome to the Rileys." This effectively leaves the big one, "The Tree of Life," as the streamlined company's only child left as they soldier on. With so much riding on the success of that one film, Thompson reminds us that Apparition have brought in former Lionsgate chief Tom Ortenberg to ensure it goes well:
There is still debate about when Malick will be ready to deliver River Road's The Tree of Life, which Pohlad produced with Sarah Green. Apparition describes the film starring Brad Pitt and Sean Penn as a "mystical epic" about a family coming to terms with loss. While Venice hopes to debut the film, there have been no promises made. And Apparition has no firm release plan; Ortenberg will be taking lead on that strategy. An end-of-year opening is the target.
Given that Malick's film is my (and no doubt many others') most anticipated title of 2010 bar none, I hope the move pays off. But more than that, I hope these downsizing measures help Apparition itself pull through: it's sad, if not altogether surprising, to see a young company with noble artistic commitments struggling in this manner.