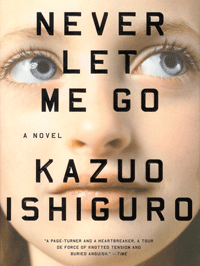 SPOILER ALERT: By necessity, this article must reveal some key plot developments of the novel, though no more than you might have gleaned from the film's recent trailer.
"(T)hough the tears rolled down my face, I wasn't sobbing or out of control," writes Kathy, the young female narrator of Kazuo Ishiguro's 2005 novel "Never Let Me Go," on its final page. She'd certainly be entitled to a good sob: over the course of 31 years and 282 pages, she has had the possibility of real life – with its attendant romance and independence and uncertainty – dangled in front of her, only to be unceremoniously denied at every turn, a Pinocchio figure resigned to eternal wooden form.
That Kathy (to be played by Carey Mulligan in Mark Romanek's upcoming film) remains so stoic and accepting in the face of even the novel's most crushing revelations makes her very much of a piece with other Ishiguro protagonists; in many ways, she's something of a modern-day sister (or daughter) to Stevens, the emotionally stunted butler later played by Anthony Hopkins in "The Remains of the Day," the only other screen adaptation of the British-Japanese novelist's work to date.
Stevens denied himself feeling, but the disability of Kathy – and her classmates at Hailsham, the plush private college where they spend their entire childhood – is less autonomous than that: if her responses aren't entirely human, it's because she's not entirely human herself.
You may have heard "Never Let Me Go" described as a work of science fiction, and if you haven't read it – and, say, are only going on the high-end, contemporary-set romance (albeit with mildly gothic overtones) of the film's trailer – you could be forgiven for being a bit puzzled by that classification.
Certainly, the "science" half of the equation could scarcely be less present in the novel. After 80 pages of off-kilter behaviour oblique hinting, we're let in on its key secret: that Kathy and her fellow students are human clones, farmed solely for the purpose of organ donation in early adulthood. Ishiguro, however, has no interest in the hows and whys of his fantastical (if highly topical) premise: with the story told from their perspective, we're left as innocent as they are of how they came to be, and the novel is all the more frightening and plausible for its conceptual short-cutting.
Rather, Ishiguro focuses only on those aspects of his protagonists lives that are modelled on human experience, such as education, friendship, sexual awakening. In doing so, raises a tricky discussion of what it means to be human, one that is outwardly verbalized when Kathy and a fellow clone find themselves sincerely in love, and attempt to use this evidence of a human soul to escape the fate they were bred for.
With Fox Searchlight's classy-looking film looming, internet wags have already dubbed it (not entirely without cause) an arthouse spin on Michael Bay's tepid 2005 blockbuster "The Island," perhaps not realizing that Margaret Atwood's novel "The Handmaid's Tale" (unhappily filmed in 1990) is an even closer cousin. Still, "Never Let Me Go" is more incidentally a fantasy than either of those: set in a bland corner of rural England in a slightly indeterminate period (human cloning was invented before CDs, it seems), the novel makes little attempt to expand or redream the world we live in, but nonetheless emulates the best sci-fi by using its departures from reality as a springboard for an immediate, relatable discussion of mortality and the human condition.
This fusion of the highbrow and the high-concept arguably faces less resistance in the world of literature than in film – indeed, Ishiguro's novel was a multi-garlanded bestseller – and Romanek and novelist-screenwriter Alex Garland (who scripted both "28 Days Later" and "Sunshine" for Danny Boyle) have their work cut out for them finding a similarly broad audience for their film.
Even assuming the film replicates Ishiguro's delicate tonal balance, fans of the lofty British heritage drama promised by its cast and literary cache might find themselves turned off by its cold strain of fantasy, while the material is surely too vague and character-oriented to please genre buffs. Structurally, too, the material presents challenges: it appears from the trailer than Romanek and Garland have retained Kathy's narration via voiceover, but hers is an awkward voice to translate to screen, constantly interrupting and correcting herself as she plucks anecdotes from all across the timescale. It'd be exciting to see the filmmakers use this to their advantage to create a daring memory-based structure, but a more linear route might reap more mainstream rewards. Still, I'm far from convinced that this is the just-add-water prestige awards bait some imagine it to be.
Either way, the film's A-grade cast has rich material to work with: as the central trio of friends gradually fractured by differing degrees of resignation to a mutual fate, Mulligan, Keira Knightley and Andrew Garfield are ideally cast in relation to each other. Kathy lives in thrall to her more strident, socially adept friend Ruth, so the contrast between Mulligan's gangly, reticent screen presence and Knightley's more patrician serenity should be well exploited – though it's Mulligan who is gifted with the more emotionally accessible character. Meanwhile, as the girls' mutual friend (and, eventually, lover) Tommy, Garfield could benefit from having the most openly dysfunctional character to play, as well as the most complete (and tear-stained) arc of the three.
Elsewhere, it becomes harder to guess: the trailer suggests that the characters of the students' minders have been swapped or amalgamated to an extent, though it would appear that Sally Hawkins – as a conscience-plagued teacher who provides the youngsters with the biggest clues to their fate – has the most to work with. (Casting Charlotte Rampling as a frosty but perceptive headmistress, meanwhile, is practically de rigueur these days.)
No name attached to the project, however, provokes more intrigue than that of Mark Romanek himself. He is, of course, a master of the music-video form, and the film's trailer showcased enough of Adam Kimmel's cinematography to suggest that his visual storytelling gifts are intact. Romanek's two features thus far ("One Hour Photo" and his larely forgotten debut "Static") suggest little auteur identity between them, but share a low-temperature eeriness that, if repeated, would serve Ishiguro's self-concealing prose in "Never Let Me Go" very well indeed.