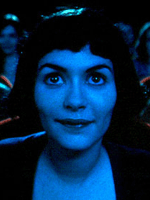 The folks at Movieline got their hands on a list of the top 50 films of the decade, from a cinematography standpoint, as laid out by voters at American Cinematographer magazine. Topping the list: Bruno Delbonnel's work on "Amelie." Delbonnel is a favorite among DPs. After all, "A Very Long Engagement" won him the ASC honor in 2004 and he received his third Oscar nomination of the decade for last year's "Harry Potter and the Half-Blood Prince." But it's still a surprising call.
Another delightfully unexpected pick is Jeff Cronenweth's lensing of "Fight Club," but I was personally irritated to find John Toll's serene, thematically potent work on "The Thin Red Line" go completely unrecognized in the top 10 (he finally shows up at #17).  I'd also say Roger Deakins, though at his usual top notch on "No Country for Old Men," probably should have seen top 10 representation for "The Assassination of Jesse James by the Coward Robert Ford" instead.  His work on the western just misses at #11.
I've been asked many times to offer up a list of the top 10 shots of the decade as a bonus to my annual top 10 shots of the year columns, but I don't think I can do it.  For one thing, it's obviously a ton of work, but with so many shots in so many movies, I just think it would be tough to whittle it down.  Too tough.
Check out the full list from American Cinematographer after the jump.  (Note they're picking from 1998 to 2008).
1. Amélie: Bruno Delbonnel, ASC, AFC (2001)
2. Children of Men: Emmanuel Lubezki, ASC, AMC (2006)
3. Saving Private Ryan: Janusz Kaminski (1998)
4. There Will Be Blood: Robert Elswit, ASC (2007)
5. No Country for Old Men: Roger Deakins, ASC, BSC (2007)
6. Fight Club: Jeff Cronenweth, ASC (1999)
7. The Dark Knight: Wally Pfister, ASC (2008)
8. Road to Perdition: Conrad L. Hall, ASC (2002)
9. Cidade de Deus (City of God): César Charlone, ABC (2002)
10. American Beauty: Conrad L. Hall, ASC (1999)
11. The Assassination of Jesse James by the Coward Robert Ford (Deakins)
12. Tie: In the Mood for Love (Christopher Doyle, HKSC, and Mark Li Ping-bin) and Pan's Labyrinth (Guillermo Navarro, ASC)
13. The Lord of the Rings trilogy (Andrew Lesnie, ASC, ACS)
14. Eternal Sunshine of the Spotless Mind (Ellen Kuras, ASC)
15. Gladiator (John Mathieson, BSC)
16. The Matrix (Bill Pope, ASC)
17. The Thin Red Line (John Toll, ASC)
18. The Diving Bell and The Butterfly (Kaminski)
19. Slumdog Millionaire (Anthony Dod Mantle, BSC, DFF)
20. Tie: Eyes Wide Shut (Larry Smith, BSC) and Requiem for a Dream (Matthew Libatique, ASC)
21. Kill Bill (Robert Richardson, ASC)
22. Moulin Rouge (Donald M. McAlpine, ASC, ACS)
23. The Pianist (Pawel Edelman, PSC)
24. Hero (Doyle)
25. Black Hawk Down (Slawomir Idziak, PSC)
26. O Brother, Where Art Thou? (Deakins)
27. Babel (Rodrigo Prieto, ASC, AMC)
28. Lost In Translation (Lance Acord, ASC)
29. Crouching Tiger, Hidden Dragon (Peter Pau, HKSC)
30. The Curious Case of Benjamin Button (Claudio Miranda, ASC)
31. The Man Who Wasn't There (Deakins)
32. The New World (Lubezki)
33. Sin City (Robert Rodriguez)
34. Atonement (Seamus McGarvey, ASC, BSC)
35. Munich (Kaminski)
36. The Prestige (Pfister)
37. Memoirs of a Geisha (Dion Beebe, ASC, ACS)
38. The Aviator (Richardson)
39. Zodiac (Harris Savides, ASC)
40. The Insider (Dante Spinotti, ASC, AIC)
41. Gangs of New York (Michael Ballhaus, ASC)
42. Tie: Brokeback Mountain (Prieto) and The Fountain (Libatique)
43. The Fall (Colin Watkinson)
44. The Passion of the Christ (Caleb Deschanel, ASC)
45. Snow Falling on Cedars (Richardson)
46. House of Flying Daggers (Xiaoding Zhao)
47. Sky Captain and the World of Tomorrow (Eric Adkins)
Some more quick thoughts: Bravo for including Ellen Kuras and "Eternal Sunshine of the Spotless Mind" so high, high marks for having the vision to recognize what Matthew Libatique accomplished in "The Fountain" and hey lensers, where were you guys when Janusz Kaminski needed an Oscar nod for the year's best work in 2005?  "Gladiator" and "Babel" are probably a bit too high, but all in all, it's a solid list.  Biggest omission for me is probably Sean Bobbit's work on "Hunger."
Your thoughts?