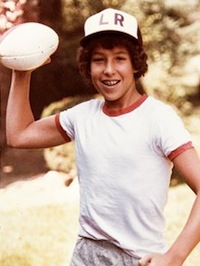 *All historical figures cited are adjusted to today's dollars.
Adam Sandler's agent successfully convinced him that cancer was way less funny than Kevin James's blubby body falling down repeatedly and that agent has his finger on America's pulse. "Grown Ups" is not the number one movie this weekend, though, so we'll come back to it in a second.
"Toy Story 3" dropped a respectable 47% to $59.0 million and easily repeated at the summit of the chart. It's running total passed $225 million and the drops should get considerably better from here on out. I guess this means that the success of the first two films wasn't down to the popularity of Jim Varney after all.
Okay, now there's that movie about "Grown Ups." Seemingly named by an Executive's five year old son and possibly written by him as well, the Adam Sandler comedy grossed $41.0 million for the weekend. That almost matches the $42.7 million of "You Don't Mess With the Zohan" and goes a bit better than the $39.6 million of "I Now Pronounce You Chuck and Larry."
Sandler's consistency with dumb comedy is downright eerie. Is it really all the same exact people that show up for his films or is there some assembly line that pumps out new fans just as the older ones discover girls and/or books? Whatever the case, this is a sure-fire $100 million performer, his twelfth. It also means that Kevin James has been in four films and they will average a total gross of around $160 million. Stew on that.
Tom Cruise used to have a record like that but his films have stuttered a bit lately. "Knight and Day" started slowly mid-week, but picked up the pace a bit to record a $20.5 million weekend and $27.8 million five day tally. Definitely on the low end of debuts for Cruise, but by no means a disaster. James Mangold has been consistent in this range and with no other titles aimed at an older crowd coming for the Fourth, it could find its way to $80 million or so.
Cruise always gets a share of the profits so by the time overseas grosses are counted, he should be able to afford his 2010 Scientology tithing budget.
If you smelled something rancid at the multiplex this weekend, it was surely "Jonah Hex" stinking up the joint. Theaters are almost always tied in to two week bookings minimum with the major studios so Josh Brolin and his ugly mug stayed in 2,825 venues but dropped an atrocious 70%. The weekend total was $1.6 million and the per theater average was $566. Generously factor about four shows a day and that's $142 per showtime. Fourteen people. Fail.
Drops were pretty brutal all around the top 10, perhaps thanks to the heroics of Landon Donovan (they seem so far away now). "Toy Story 3" actually held up the best and for a title in its second weekend, coming off a huge opening, that's pretty phenomenal.
Oliver Stone's Shia LaBeouf-less documentary about Hugo Chavez, "South of the Border" had a strong opening on one screen, but even liberal Hollywood would have a tough time embracing that kind of thing with an Oscar nomination.
I saw two films this week, and both were produced by major Hollywood studios! On Wednesday, I packed into the Vista for "Toy Story 3" (in 2D of course) and was largely disappointed. I mean, it's good and all, but there's no excuse for recycling the same opening, escape/rescue plot, structure, loyalty themes and villain motive from "Toy Story 2." I laughed my ass off when Mr. Potato Head was a tortilla, but there was nothing new to say in this script. Also, what is the obsession with adding characters in sequels? Totally overboard here and there were at least 30 characters I was supposed to find interesting and everybody suffered as a result.
Then on Thursday I saw "Cyrus" at the Arclight. The Duplass Brothers were batting one for two with me and their shooting style is still bothersome, but I really liked it in the end. File Marisa Tomei's outstanding performance in the I-never-thought-she-had-it-in-her file. And yes, I've seen her serviceable performance in "The Wrestler" and terrible one in "Before the Devil Knows You're Dead."
What did you guys see? Here are this week's top grossing films courtesy of Exhibitor Relations: