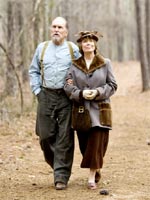 I have an irritating habit of missing key prizewinners at film festivals, so it was with some astonishment that I perused the list of films honored at the close of the Edinburgh Film Festival — only to find that I'd seen most of them. Considering the brevity of my visit, and my mostly random selection procedure, I can only conclude that the less I prepare for a fest, the better I do.
Clearly, it's not because I have a natural nose for a winner — I'd never have guessed that Aaron Schneider's sluggish, self-regarding folk tale "Get Low" was a likely winner of the festival's Audience Award, yet the public evidently responded to it more than I did. No accounting for tastes, I suppose.
This particular award has proven something of a good luck charm in recent years, with winners like "Tsotsi," "Man on Wire" and "The Secret of Kells" all going on to bigger things — perhaps last year's Toronto buzz for the Robert Duvall vehicle wasn't a false alarm after all.
The festival's most prestigious juried award, the Michael Powell Award for Best British Feature, went to Nick Whitfield's debut effort "Skeletons," an eccentric but mostly appealing hybrid of fantasy, black comedy and domestic drama. (Previous winners include "Moon," "Control" and, again, "Tsotsi.")
Whitfield's film wasn't entirely a home run for me, but it was certainly the most accomplished entry I saw in a thin shortlist of contenders for the prize. The jury, headed by actor Patrick Stewart, also handed a Special Mention to "Jackboots on Whitehall," an animated twist on British history that I regretfully missed, but have heard mostly positive word on.
I can more wholeheartedly endorse the winner of the New Directors Award, another auspicious honor whose roll-call of former winners includes the debut helmers of such films as "Sin Nombre" and "American Splendor." This year's champ is multi-multi-hyphenate Gareth Edwards, whose excellent sci-fi romance "Monsters" I already raved about this morning. Clearly I'm not alone in predicting big things for the guy.
Another film I reviewed today, US war-at-home indie "The Dry Land" with its ensemble including America Ferrera and Melissa Leo, was a respectable choice for the Best International Feature award. Full list of feature winners below.
Michael Powell Award for Best British Feature: "Skeletons" (Nick Whitfield)
Special Mention for Michael Powell Award: "Jackboots on Whitehall" (Edward and Rory McHenry)
Standard Life Audience Award: "Get Low" (Aaron Schneider)
Moët New Directors Award: "Monsters" (Gareth Edwards)
Best International Feature: "The Dry Land" (Ryan Piers Williams)
Best Feature Documentary: "The Oath" (Laura Poitras)
Special Mention: "Restrepo" (Sebastian Junger and Tim Hetherington)
Best Performance in a British Feature: David Thewlis, "Mr. Nice"