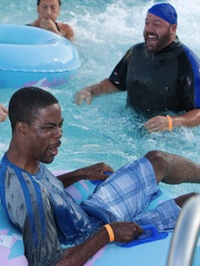 *All historical figures cited are adjusted to today's dollars.
This post is a little late so sorry if it's brief. Turned out to be a very hectic Friday. I should have gone to a "Jonah Hex" screening for a little piece and solitude. Hey-oh!
But seriously folks, we have two new releases to talk about, one of which has already been out for two days so let's start there. Tom Cruise aims to repair his damaged reputation with the action/comedy/romance, "Knight and Day." "Vanilla Sky" co-star Cameron Diaz has got his back and James Mangold directs. While the media likes to paint a grim picture of Cruise's appeal, the simple box office facts are that the man has only had one miss to his name in recent years and that was "Lions for Lambs."
Given his supporting role and mutual star power coming from Robert Redford and Meryl Streep, we can go ahead and call it not Tom's fault. "Mission: Impossible III" underwhelmed domestically but did just fine overseas. "War of the Worlds" was a mega-blockbuster, "Tropic Thunder" crossed $100 million with direct help from his buzz-worthy cameo and "Valkyrie" came close to the same mark in a crowded Christmas market with less than stellar reviews.
"Knight and Day" had a soft opening day on Wednesday with $3.8 million, finishing well behind "Toy Story 3." Business usually drops by 50% or so on Thursdays for this type of opener, but Cruise and Diaz held on for a 9% drop and a two day total $7.3 million. While still not amazing, it does indicate that there's no major rush factor and audiences still could discover this thing over the weekend or beyond. I'm predicting a $18 million weekend and $25 million total.
Sony's "Grown Ups" wonders what life would be like if Kevin James had beaten Chris Farley to that spot on "Saturday Night Live" and then performed in a painfully unfunny skit with his co-stars that went on way too long. Still, Sandler in the summer time is a box office recipe that never fails, unless you add cancer subplots and Eric Bana.
This is a guy who could open "Big Daddy" to $65.0 million at the height of his powers so he shouldn't be underestimated. The shine has worn off his brand of humor in the last decade, but with Paul Blart, Deuce Bigalow, Dickie Roberts and Pootie Tang's father all there for back-up, "Grown Ups" should easily be able to do around $37 million for the weekend.
Neither will be able to touch Woody and Buzz, as "Toy Story 3" rides ecstatic reviews and word of mouth to a second weekend at the top. A 45% drop would give the film another $60 million and send it breezing past the $200 million mark. If the drop is less than 35%, then we have something special on our hands and can pretty confidently say we have our number one film of the summer, if not year.
"Jonah Hex" should probably fall around 65%. Who in their right mind would go see this on it's second abysmal weekend? There's always somebody and the film will earn around $2.0 million as it struggles to cross double digits total. Pa. The. Tic.
Keep your eyes on "Prince of Persia: The Sands of Time" as well to see if it's actually earning some good word of mouth or if it was just lazy sons making it their premiere choice for Father's Day last weekend.
Huge game for the United States early tomorrow morning, which could ruin my entire weekend, which has been pretty awesome so far (my weekend's begin on Thursday). What are you guys watching?