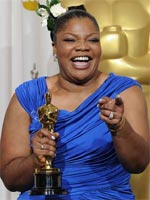 Well, we already knew Jeremy Renner had got the nod. And no surprise that many of his fellow acting nominees from this year's Oscar race — Christoph Waltz, Mo'Nique, Carey Mulligan, Vera Farmiga and Anna Kendrick among them — have now been granted Academy membership. (Lest you think that the invitation automatically follows a nomination, Saoirse Ronan only gets in now, two years after her nod.)
Other inclusions from Oscar's class of 2009 include directors Lee Daniels and Juan  Jose Campanella, writers Mark Boal, Geoffrey Fletcher, Neill Blomkamp, Nick Hornby and Tom McCarthy, cinematographers Barry Ackroyd and Christian Berger, musician T-Bone Burnett, editors Bob Murawski and Joe Klotz, sound designer Paul N.J. Ottosson and costumer Catherine Leterrier.
More thoughts, and the full list of 135 invitees, after the cut.
As always, this year's list provides plenty of fodder for head-scratching in the "why now?" vein: congratulations to Gabourey Sidibe for making the grade after her first film, but how is it that Peter Sarsgaard, for example, has had to wait this long? Other names surprising for the fact that they aren't members already include four-time nominee Janet Patterson, long one of the industry's greatest costume designers, and documentarian Davis Guggenheim — three years after his Oscar win for "An Inconvenient Truth."
Still, he hasn't had to wait as long as another previous champ, "Avatar" co-producer Jon Landau, finally let through the door after several failed applications — over 12 years after winning the Best Picture gong for a little film called "Titanic."
The celebrity-minded can feast on the inclusion of Bono and The Edge, not to mention Adam Sandler, but it's the mention for "A Prophet" director Jacques Audiard that pleases me the most — scant compensation for daylight robbery in the Best Foreign Language Film category months ago, but a nice gesture nonetheless. The full list and press release is below: who are you happiest to see?
The press release:
Beverly Hills, CA — The Academy of Motion Picture Arts and Sciences is extending invitations to join the organization to 135 artists and executives who have distinguished themselves by their contributions to theatrical motion pictures. Those who accept the invitation will be the only additions in 2010 to the Academy's roster of voting members.
"The work of these individuals has been appreciated by moviegoers all around the world," said Academy President Tom Sherak. "The Academy is proud to invite each and every one of them."
The Academy's membership policies would have allowed a maximum of 180 new members in 2010, but as in other recent years, the several branch committees endorsed fewer candidates than were proposed to them. Voting membership in the organization has now held steady at just under 6,000 members since 2003.
New members will be welcomed into the Academy at an invitation-only reception at the Academy's Fairbanks Center for Motion Picture Study in Beverly Hills in September.
The 2010 invitees are:
Actors
Tobin Bell – "Saw," "The Firm"
Vera Farmiga – "Up in the Air," "The Departed"
Miguel Ferrer – "Traffic," "RoboCop"
James Gandolfini – "In the Loop," "Get Shorty"
Anna Kendrick – "Up in the Air," "Twilight"
Mo'Nique – "Precious: Based on the Novel 'Push' by Sapphire," "Phat Girlz"
Carey Mulligan – "An Education," "Public Enemies"
Jeremy Renner – "The Hurt Locker," "28 Weeks Later"
Ryan Reynolds – "The Proposal," "X-Men Origins: Wolverine"
LaTanya Richardson Jackson – "Mother and Child," "Losing Isaiah"
Peter Riegert – "Traffic," "Crossing Delancey"
Sam Robards – "A.I. Artificial Intelligence," "American Beauty"
Saoirse Ronan – "The Lovely Bones," "Atonement"
Zoe Saldana – "Avatar," "Star Trek"
Adam Sandler – "Funny People," "Punch-Drunk Love"
Peter Sarsgaard – "An Education," "Boys Don't Cry"
Gabourey Sidibe – "Precious: Based on the Novel 'Push' by Sapphire"
Shaun Toub – "Iron Man," "The Kite Runner"
Christoph Waltz – "Inglourious Basterds"
George Wyner – "A Serious Man," "American Pie 2"
Animators
Ken Bielenberg – "Monsters vs Aliens," "Shrek"
Peter de Seve – "Ice Age Dawn of the Dinosaurs," "Ratatouille"
Steve Hickner – "Bee Movie," "The Prince of Egypt"
Angus MacLane – "Toy Story 3," "WALL-E"
Darragh O'Connell – "Granny O'Grimm's Sleeping Beauty," "Give Up Yer Aul Sins"
Simon Otto – "How to Train Your Dragon," "Kung Fu Panda"
Bob Pauley – "Toy Story 3," "Monsters, Inc."
Willem Thijssen – "The Aroma of Tea," "A Greek Tragedy"
Art Directors
Kim Sinclair – "Avatar," "Cast Away"
Dave Warren – "Sweeney Todd The Demon Barber of Fleet Street," "Bridget Jones's Diary"
At-Large
Darcy Antonellis
John Lowry
Casting Directors
Laura Rosenthal – "The Messenger," "I'm Not There"
Cinematographers
Barry Ackroyd – "The Hurt Locker," "United 93"
Christian Berger – "The White Ribbon," "Cache"
Hagen Bogdanski – "The Young Victoria," "The Lives of Others"
Shane Hurlbut – "Terminator Salvation," "We Are Marshall"
Tom Hurwitz – "Valentino The Last Emperor," "Ghosts of Abu Ghraib"
Dan Mindel – "Star Trek," "Mission: Impossible III"
Tobias Schliessler – "The Taking of Pelham 1 2 3," "Hancock"
Stephen Windon – "The Fast and the Furious: Tokyo Drift," "House of Wax"
Robert Yeoman – "Get Him to the Greek," "The Squid and the Whale"
Costume Designers
Catherine Leterrier – "Coco before Chanel," "Avenue Montaigne"
Janet Patterson – "Bright Star," "The Piano"
Directors
Jacques Audiard – "A Prophet," "The Beat That My Heart Skipped"
Juan Jose Campanella – "The Secret in Their Eyes," "Son of the Bride"
Lee Daniels – "Precious: Based on the Novel 'Push' by Sapphire," "Shadowboxer"
Claudia Llosa – "The Milk of Sorrow," "Madeinusa"
Lone Scherfig – "An Education," "Italian for Beginners"
Adam Shankman – "Bedtime Stories," "Hairspray"
Documentary
Nancy Baker – "Rehearsing a Dream," "Born into Brothels"
Rick Goldsmith – "The Most Dangerous Man in America: Daniel Ellsberg and the Pentagon Papers," "Tell the Truth and Run: George Seldes and the American Press"
Davis Guggenheim – "It Might Get Loud," "An Inconvenient Truth"
Tia Lessin – "Capitalism: A Love Story," "Trouble the Water"
Cara Mertes – "The Betrayal," "My Country, My Country"
Frazer Pennebaker – "Al Franken: God Spoke," "The War Room"
Julia Reichert – "The Last Truck: Closing of a GM Plant," "Seeing Red"
Morgan Spurlock – "Where in the World Is Osama Bin Laden?," "Super Size Me"
Executives
Christopher W. Aronson
Jim Berk
Philippe Dauman
Sheila DeLoach
Donald Peter Granger
Nathan Kahane
Andrew Karpen
Ryan Kavanaugh
David Kosse
David Andrew Spitz
Emma Watts
Film Editors
Robert Frazen – "Synecdoche, New York," "Smart People"
Dana E. Glauberman – "Up in the Air," "Thank You for Smoking"
Joe Klotz – "Precious: Based on the Novel 'Push' by Sapphire," "Grace Is Gone"
Bob Murawski – "The Hurt Locker," "Spider-Man"
John Refoua – "Avatar," "Reno 911!: Miami"
Live Action Short Films
Joachim Back – "The New Tenants"
Gregg Helvey – "Kavi," "The Knife Grinder's Tale"
Makeup Artists and Hairstylists
Kris Evans – "X-Men The Last Stand," "Pirates of the Caribbean: The Curse of the Black Pearl"
Jane Galli – "Knight and Day," "3:10 to Yuma"
Mindy Hall – "Star Trek," "World Trade Center"
Joel Harlow – "Star Trek," "Pirates of the Caribbean: At World's End"
Jenny Shircore – "The Young Victoria," "Elizabeth"
Music
Christophe Beck – "The Hangover," "Bring It On"
Bono – "Gangs of New York," "In the Name of the Father"
T Bone Burnett – "Crazy Heart," "Cold Mountain"
The Edge – "Gangs of New York," "GoldenEye"
Brian Tyler – "Fast & Furious," "Aliens vs. Predator Requiem"
Producers
Stephanie Allain – "Black Snake Moan," "Hustle & Flow"
Gregory Jacobs – "The Informant!," "The Good German"
Jon Landau – "Avatar," "Titanic"
Marc Turtletaub – "Away We Go," "Little Miss Sunshine"
Glenn Williamson – "Sunshine Cleaning," "Hollywoodland"
Production Designers
Kirk M. Pertruccelli – "The Incredible Hulk," "The Patriot"
Edward S. Verreaux – "G.I. Joe: The Rise of Cobra," "Jurassic Park III"
Public Relations
Dwight Caines
Suzanne M. Cole
Tommy Gargotta
Sophie Gluck
Josh Greenstein
Pamela Levine
Wendy Lightbourn
Michele Robertson
Tony Sella
Set Decorators
Maggie Gray – "The Young Victoria," "Ella Enchanted"
Douglas A. Mowat – "Role Models," "The Sixth Sense"
Caroline Smith – "The Imaginarium of Doctor Parnassus," "Match Point"
Sound
Frank Eulner – "Iron Man 2," "Hellboy"
Adam Jenkins – "I Love You, Man," "Crash"
Tony Lamberti – "Inglourious Basterds," "Sideways"
Dennis Leonard – "Disney's A Christmas Carol," "The Polar Express"
Tom Myers – "Up," "WALL-E"
Paul N.J. Ottosson – "The Hurt Locker," "Spider-Man 3"
Resul Pookutty – "Ghajini," "Slumdog Millionaire"
Gary A. Rizzo – "How to Train Your Dragon," "The Dark Knight"
Michael Silvers – "Up," "Ratatouille"
Gwendolyn Yates Whittle – "Avatar," "The Simpsons Movie"
Visual Effects
Matt Aitken – "District 9," "The Lord of the Rings: The Fellowship of the Ring"
Karen Ansel – "Angels & Demons," "Men in Black II"
Richard Baneham – "Avatar," "The Lord of the Rings: The Two Towers"
Eric Barba – "The Curious Case of Benjamin Button," "Zodiac"
Paul Debevec – "Avatar," "King Kong"
Russell Earl – "Star Trek," "Transformers"
Steve Galich – "Date Night," "Transformers"
Andrew R. Jones – "Avatar," "I, Robot"
Dan Kaufman – "District 9," "Ocean's Thirteen"
Derek Spears – "The Mummy: Tomb of the Dragon Emperor," "Superman Returns"
Steve Sullivan – "Avatar," "Star Wars: Episode III Revenge of the Sith"
Michael J. Wassel – "Hellboy II: The Golden Army," "The Bourne Identity"
Writers
Neill Blomkamp – "District 9"
Mark Boal – "The Hurt Locker," "In the Valley of Elah"
Geoffrey Fletcher – "Precious: Based on the Novel 'Push' by Sapphire"
Nick Hornby – "An Education," "Fever Pitch"
Alex Kurtzman – "Star Trek," "Mission: Impossible III"
Tom McCarthy – "Up," "The Visitor"
Roberto Orci – "Star Trek," "Mission: Impossible III"
Terri Tatchell – "District 9"