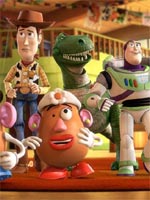 I'm not saying it — Guardian art critic Jonathan Jones is. In a brief but gutsy blog post, Jones adds an alternative (but still admiring) view to the past week's pile of love letters to "Toy Story 3," focusing less on their storytelling and more on their value as fine art pieces.
In so doing, he concludes that Pixar and its fellow digital animation studios are artistic innovators equivalent not only to the artists of Disney's golden age, but Renaissance masters like Leonardo da Vinci:
If you watch the "making of" features on your DVD of the original Toy Story you will be told the story of a modern Renaissance. The Pixar team did not accidentally hit on a new way to make toys apparently come to life on screen. After seeing earlier attempts at digital animation they actively theorised that it was possible to perfect this technology, and to use it to create "real" animated worlds of an intricacy and vitality that would amaze and move audiences in a completely new way … Toy Story and its successors are colossal artistic achievements.
I won't argue with that last sentence — though I'd have welcomed this discussion more around the time of the genuinely ravishing "WALL-E," as opposed to the familiarly blocky, pastel-toned aesthetic of their last two features. (I also question Jones's implication that verisimilitude represents the pinnacle of artistic achievement: artists like Henry Selick are pushing the boat out on a technical level as much as Pixar, but the objective isn't the same.)
Meanwhile, I'd suggest that for the "real" animated worlds of which Jones writes, no film studio can compete with the cream of the gaming industry. Still, the Guardian piece is a great conversation starter … where do you stand?