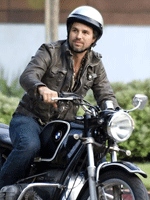 Lisa Cholodenko's "The Kids Are All Right" opened the Los Angeles Film Festival last Thursday night, right across 11th Street from the Staples Center downtown as the Lakers triumphed in Game 7 of the NBA playoffs.  No, they weren't rioting on Figueroa because the movie's good, but it IS a solid piece.
I spoke briefly about it in the 6/11 edition of Oscar Talk, but on the occasion of its recent festival showcase, I wanted to again address what I think is the film's key ingredient: Mark Ruffalo.
For me, "The Kids Are All Right" is a return on the investment anyone put into Ruffalo 10 years ago when he first made waves in Ken Lonergan's "You Can Count on Me." After the actor frankly seemed incapable of tapping back into that essence for the better part of the decade, his work here makes good on the promise his charisma and raw talent made back in 2000.  Aside from Tahar Rahim's inarguable work in Jacques Audiard's "A Prophet," Ruffalo's is the most refined, natural performance I've seen all year.
He lives in the character like it were a tattered and trusty flannel, having fun but carving out depth in the role that shows up in the actor's impeccable rhythm and physical presence.  He stands toe-to-toe with Annette Bening and Julianne Moore and kind of puts on a clinic, small but big, understated but captivating, the most organic element of the film's cast.  He even makes it out unscathed as the film turns what I thought to be an uncharacteristically judgmental eye toward him in the third act.
The guy deserves his first nomination for what he put into the mixture here and I can only hope that Academy voters feel the same way.  To me, this is just the kind of work actors should appreciate and even emulate.
Elsewhere, I think we're likely to see a nomination for original screenplay, perhaps even Best Picture.  This looks to be one of Focus Features' big plays in the season.  The thinking is Bening's butch portrayal (with all the good lines) has an inside track for a lead actress nomination, and I'm sure she'll get there, but I was more impressed with what Moore did, with less.  Still, if there's one reason to see the film, it's Ruffalo.  I can't remember the last time I so fully believed a portrayal.