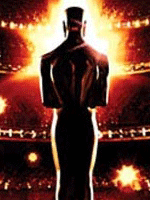 Nikki Finke's report last night that AMPAS execs discussed moving the Oscar telecast to January spurred plenty of debate from the readership.  I thought I'd poke around and see what the rest of the blogging community has to say on the matter.
For starters, David Poland is seeing things the way I do [The Hot Blog]:
An earlier vote – nominations on, say, January 11, show on January 30, the week between the NFL Conference Finals and The Super Bowl – would put enormous pressure on the TV show producers… but I have to say… the show has been dubious… and lacking spontaneity. This could help bring it back. It would also keep the parade of award shows from boring the world to tears before the one award show that matters lands.
Tom O'Neil, on the other hand, would rather see a shift in the other direction [Gold Derby]:
…back when the Oscars were doled out in late March/early April, TV Nielsens were fine and the Academy Awards had more suspense. Voters often got bored with the early winners of Golden Globes and critics' and guild awards and ditched…The longer the Oscar derby continues the more we will all be engaged in a worthwhile discussion of great filmmaking. That's a good thing.
Nathaniel Rogers sees both sides with a "pro" and "con" perspective [The Film Experience]:
A January ceremony could potentially make November the month of choice for adult oriented studio releases which would be a better alternative from a moviegoing perspective than Christmas. November is far less hectic than December…[but] an earlier awards ceremony could also mean that we see even less discernment in Oscar nominations and winners than we do now, and even less careful consideration of merits from the critics and precursor groups (obviously if Oscar moves earlier everyone else will too which means you'll see critics groups voting in November before they've seen everything).
Scott Feinberg has a modest proposal [Hollywood News]:
How about having TWO voting periods? At the end of June, have voters select the 5 best films released between January and June; and at the end of December, have voters select the 5 best films released between July and December. Then, after tallying the votes by mid-January, mail voters an alphabetized list of all 10 best picture nominees, and ask them to rank them from best to worst, just as you did last year, to determine your best picture winner. (You could still have the Oscars show at the end of January or beginning of February.)
Ryan Adams, who has been quite vocal with his views in our own thread, would rather jump out a window [Awards Daily]:
Why not move the whole slippery ceremony to an undisclosed location like the Honorary Oscars? Is New Year's Eve convenient for everybody? This scheme is so unwieldy it's hard to think of any way to respond except to wince at the absurdity.
And, of course, in her initial report, Finke saw the whole thing as an awful idea [Deadline]:
With so many films coming out those last days of December, it leaves even less time for AMPAS members to see the movies they'll nominate. It also means the studios will have to get DVD screeners into voters' hands that much sooner, which would only make the piracy risks that much greater. Most of the AMPAS members I know watch the potential nominees over the December 25-January 1 holiday. That won't be possible.
I'm sure the debate will continue.