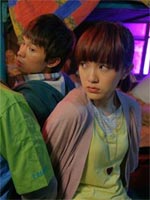 Arriving at a festival at the halfway mark is a little like turning up late to a party where the food has been eaten and the guests you know are already starting to leave – the night may not be over, but you're going to have to work your way into it.
So it was when my train pulled into Edinburgh yesterday afternoon: the comparative glamour of last week's UK premieres for "The Illusionist" and "Toy Story 3" are old news, the press contingent has already thinned out and one is left to badger those who remain for hot screening tips. Admittedly, I hadn't really done my homework beforehand: for the first time, I turned up at a festival having only glancingly browsed through the programme.
Not that that's too much of a disability at Edinburgh, a festival so thick with new names from the indie sector that most screenings can be seen a lucky dip of sorts: five films in, I've only scored once. (With a film is delightful as the first reviewed after the cut, however, once is quite enough.)
But no matter: the weather is uncharacteristically great, the company is characteristically greater, and after the hard graft of Cannes, Edinburgh should be an altogether more languid affair. (That – and, like last year, a tricky wi-fi situation – will account for less thorough festival reports than you may be used to from me.) In an odd bookending situation, however, my week in Scotland began with some unfinished business from another festival.
"AU REVOIR, TAIPEI" (****)
Eagle-eyed readers may note that this isn't the first time I've seen and discussed Chinese-American filmmaker Arvin Chen's sweetly immaculate petit four of a debut feature: I first encountered it at Berlin in February. While I was suitably enchanted by its beguiling young cast and iridescent visuals, however, I was slightly hindered by the fact that I'd accidentally walked into a German-subtitled screening of a Mandarin-Taiwanese-language film; as much as I liked what I saw, its spry wit and narrative zip largely passed me by.
Four months and one English-subtitled screening later, this one-night romantic caper emerges as both the best debut feature and date movie of 2010 thus far, the kind of knowingly feather-light entertainment that Hollywood struggles to produce these days without resorting to twee clever-cleverisms.
The story is a trifle: desperate for money to travel to Paris in search of his ex, lovelorn restaurant worker Kai (Jack Yao) accepts a delivery job for a local mobster, attracting the attention of competing gangsters and shy bookstore worker Susie (Amber Kuo) along the way. Still, even as the silly MacGuffins and mistaken identities mount up, Chen and his appealing ensemble play it pleasingly straight, teasing out subtle relationship details amid the hijinks. (Best in show honors must go to Lawrence Ko, hilariously deadpan as an overly polite aspiring crime lord.)
Chen wears his influences, Eastern and Western, casually and openly on his sleeve: some Wong here, some Godard there, notably in a beautifully staged outdoor dance sequence. Perhaps most of all, his apprenticeship to the late Edward Yang shows up in the camera's patient, rich-hued exploration of the titular city and a wry concern with everyday behavioural detail – this is a film where gangsters put a heist on hold to go in search of late-night noodles. A A bijou pleasure, to be sure, but a beguiling arrival from a major new talent, and a crossover hit waiting to happen.
"BARRY MUNDAY" (**)
I wish I could say the same for the second debut feature I saw yesterday, not least because I so wanted to embrace a film that finally puts the terrific Patrick Wilson center-stage. But writer-director Chris D'Arienzo's long-shelved manchild comedy is an idle and tonally conflicted affair that seems to think that poking fun at a misogynistic protagonist exempts it from charges of misogyny itself – while taking as ungenerous a view of contemporary women as an American comedy in memory.
His movie-star handsomeness obscured beneath a scuzzy goatee and paunch-enabling jeans, Wilson plays the eponymous Barry, an unambitious office drone whose boorish bachelor lifestyle is interrupted when an unremembered one-night stand, Ginger (an offensively uglified Judy Greer), confronts him with her pregnancy; cue an Apatow-echoing arc of redemption via commitment, rendered particularly unappetizing by its emphasis on Barry (no catch, Wilson or not) as the last best chance for the dourly shrewish Ginger. (To present a more rounded view of womanhood, meanwhile, Chloë Sevigny is on hand to vamp it up Ginger's attractive slut of a sister.)
Working in a jocular comedy mode new to his repertoire, Wilson gives the material his all but doesn't appear comfortable until an hour in, whereupon the character's strained cartoonishness gives way to gentler comic beats. The script is less kind to Greer, so often an asset in best-friend roles on the big and small screen, but here too aggressive and one-note to make the core relationship fly. If I haven't yet mentioned that the film's inciting incident (and tediously recurring joke) is Barry's accidental castration, that's because D'Arienzo has as much idea as I of what to do with that particular plot point.
"brilliantlove" (**)
Another debut feature (this time from Britain's Ashley Horner) and another film precoccupied with genitalia – or at least those of its two young leads, granted an unusual amount of full-frontal screen time to add some charge to an otherwise unremarkable misunderstood-young-lovers tale.
Liam Browne and Nancy Trotter Landry (whiny but sporadically affecting, both) play intolerably named hipsters Manchester and Noon, respectively an amateur photographer and, uh, taxidermist, whose bohemian countryside retreat and impressive day-long fucking routine are both intruded upon by a sleazy art collector with designs on the couple's more intimate family snaps. Needless to say, their relationship dissolves – albeit in unpredictably barmy fashion.
Attractively shot and sometimes genuinely erotic, Horner's film is already generating comparisons to Michael Winterbottom's similarly vapid "9 Songs," but for all its NC-17 thrashing, it rather sweetly resembles a teenager's notebook of self-written poetry: as that cringingly precious title suggests, it's commendably ornate, faintly embarrassing and certain of little else but feeling.