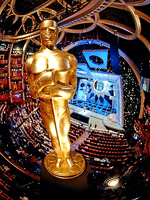 That's what Nikki Finke is reporting tonight (in the midst of further outlandish bitching about AMPAS executive director Bruce Davis), just hours after a new producer and director were tapped for the ceremony.  And it's obviously a major decision with a lot of moving parts, but let's consider this.
First and foremost, it's the drum I've been banging since the Academy began to get scared about ratings.  Quick fix ideas like adding an animated feature film category nine years ago and, of course, beefing up the Best Picture category to 10 nominees have been attempts at opening the door for popular or blockbuster fare.  The thinking has been, if popular films are nominated, more people will watch the show.
But that logic has always been flawed at best, a leap of faith that doesn't address the real reason audiences don't seem interested in tuning in every March: awards show fatigue.
Not to belabor a point, but again, by the time the Oscars roll around every year, they've already been preempted by the Golden Globes, the ever-expanding Critics' Choice Movie Awards and the Screen Actors Guild Awards, three nationally televised, red carpeted kudofests.  The Oscars feel stale, like an afterthought, when they should feel like the gold standard.  The only real answer has always been to get a jump on the stiff competition that has developed in the last decade or so.  Hey, Meryl Streep gets it!
Of course, this is where we get into all that machinery.  A year in cinema has come to reflect a certain paradigm, with no man's lands for dumped off product, counter-programming considerations in the summer and, of course, prestige, potential awards product at the end of the season.  But while it has become frustrating that the year is so backloaded in that fashion, it has also made a lot of sense if the industry is meant to have an informed vote.  March is barely enough time to get through all of the films as far as voters working in the industry are concerned.  You can argue that it's plenty of time all you want, but you would show an ignorance to the realities of production life in the process.
A move such as this would obviously force the studios' hand.  The calendar would have to take on a whole different philosophy.  Prestige films would have to be more carefully scattered throughout the year, perhaps finding some room in the mid-to-late summer.  Latter year film festivals in Telluride, Venice and Toronto would no longer instigate awards buzz so much as validate (or invalidate) it, to say nothing of Santa Barbara, which hits in late January and is a key stop for Oscar hopefuls the week after nominations are announced.
Then there's the issue of studio awards budgets, which are pretty much in place and, if the decision is made to do this for the upcoming telecast, they'd have to be firmed up even quicker, strategies put together fast.  Any Oscar consultants currently on vacation?  You might want to hop on the next flight out (if it were to go through, of course).
Make no mistake, the whole scheme of things would change shape.  But the bottom line is: the Oscars would get the eyeballs, before they're tired and watery and irritated by the parade of awards shows scattered throughout the fall and early winter.  If you want a spike in ratings, my humble opinion is, this is how you do it.  Enough piecemeal fixes.  If it's time for change, it's time for CHANGE.
Tell us what you think in the comments section below.  And now is as good a time as any to launch a new poll, so tell us what you think of this possibility in the right sidebar.