Despite a precious few naysayers, Pixar's "Toy Story 3," which hit theaters this weekend to an all-time high opening number for the studio, has become an odds-on awards season favorite.  Nominations for Best Picture, Best Adapted Screenplay and, of course, Best Animated Feature seem like no-brainers.
Additionally, though some might make arguments for this indie title or that, I think the threequel is one of only two films to have already hit multiplexes in 2010 that have a water-holding argument for placement in "the 10."  The other, ironically enough, is fellow animated endeavor "How to Train Your Dragon." But as we reach the half-way point of the year, "Toy Story 3" has become the first release that could conceivably take the whole enchilada.
It's surprising to note that this, one of the most creatively and financially successful franchises in film history, has not one competitive Oscar to its credit.  John Lasseter received Special Achievement honors for the first installment 15 years ago, but that was it.  Something else was worth noting in 1995, however.  The first film was also the one to break a certain barrier of legitimacy for animated features in the Oscar race.
While "Beauty and the Beast" may have amassed six nominations, including one for Best Picture (largely a reaction to pop cultural phenomenon), five of them were directly related to the film's soundtrack.  Four years later, it was "Toy Story" that became the first toon feature to receive a nomination for its screenplay.  Many of the seven names recognized echoed throughout the industry years after: Andrew Stanton, Pete Docter, Joe Ranft and, of course, Mr. Lasseter.
Today, 15 years later, even with bigger awards successes like "Ratatouille," "WALL-E" and Best Picture nominee "Up" to their credit, the Pixar peeps remain most appreciative of nominations for writing.  Because more than anything, those honors place their work on a level playing field with the rest of the visual storytelling industry.  And as they celebrate perhaps their biggest coup yet — closing out a trilogy with style, grace and honor — you can bet the wheels are turning, figuring a way to spin this whole thing into the kind of narrative territory Mark Harris identified as most fetching in last year's season: Perhaps it's Pixar's "turn."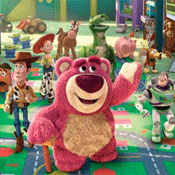 Predictable sniffling might be prevalent in Academy screenings and the money might continue to roll in throughout the summer, but that's all accoutrement to the one thing that will be difficult to argue against come awards season: the track record of a studio still standing tall 11 films in.  And what better way to celebrate that track record than to give cinema's highest honor to what looks to be the closing installment of the series that started it all?
But there will inevitably be other "it's their turn" narratives for the season.  One of them might be right around the corner as Christopher Nolan's "Inception" hits theaters in three weeks' time.  What will the pressure be like in the wake of top category snubs for "The Dark Knight" in 2008?  I hear the film has a demanding plot that'll lose you early if you're not paying attention, so hopefully the Academy puts on its collective thinking hat.
If a campaign sure to be loaded with alpha types behind the scenes can settle on a clear vision, David Fincher's "The Social Network" could remind once again of the filmmaker's versatility, and the collapse of "The Curious Case of Benjamin Button" during the awards circuit two years ago.
A still Oscarless Peter Weir comes back to the table at year's end with "The Way Back," the source material of which was featured in our weekly Page to Screen series recently.  How to argue with a portfolio like his, and the numerous careers he's touched along the way?
But nothing feels as immediate as the Pixar situation.  Maybe — just maybe — the Academy can shake its toon bias long enough to recognize a true industry feat.  It's early, early, EARLY days yet, but so far, it's the only 2010 awards "story" that feels the most complete.
The Contenders section has been groomed and adjusted.  The predictions sidebar has also been updated.  We'll let things settle another couple of weeks and reassess on July 19 or 25, depending on what's in the ether.