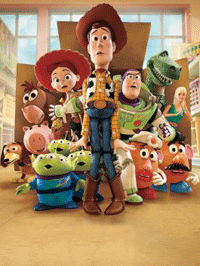 *All historical figures cited are adjusted to today's dollars.
As it turns out, Armond White was unable to convince most Americans to not see "Toy Story 3." Pixar's eleventh animated feature became their highest debuting in history with a $109.0 million weekend. That also makes it the third biggest June debut and third biggest animated debut of all time, while instantly placing it in pole position to wind up the most successful film of the summer.
Maybe it was the 3D, maybe it was the weak market, or maybe it was nostalgia for Jim Varney but the film was able to one up the $89.8 million debut of "Toy Story 2," although its $27,100 per theater average is virtually identical to the figure posted by its predecessor. Reviews amongst those who don't receive weekly death threats are universally positive and this should have the staying power to flirt with $400 million by the end of its run.
Are we looking at the second threequel to get a Best Picture nomination and the first without similar recognition for the previous installments? In a word, yes.
Megan Fox, thanks for playing the working actress game. Please collect your things on the way out and turn off the lights. "Jonah Hex" comes in at eighth with $5.1 million for the weekend. Warner Bros. is trying to tell us that the budget was $35 million, which is about as believable as any Megan Fox performance. But let's play along. It's still a catastrophic, pathetic result for the film and the studio.
Maybe releasing a trailer before three weeks ago would have helped. Maybe pumping some money into any advertising would have helped. Maybe not making a movie that requires the audience to stare at a disfigured face the whole time would have helped (I guess it didn't hurt "Joan Rivers: A Piece of Work." Snap! Send hate mail to chartigan@incontention.com). Maybe just not making an atrocious piece of junk would have helped. But hindsight is 20/20. I think the film will be lucky to finish in double digits.
"The Karate Kid" held up reasonably well with a 48% drop to $29.0 million. In the face of blockbuster kids competition, it's another huge win for Sony's little film. It's already breezed to $106 million, which "Robin Hood" is still huffing and puffing to try and get to.
"The A-Team" fell 46%, a figure which falls straight into the could-have-been-worse pile for Fox. It still hasn't cracked $50 million, but it looks a whole lot better standing next to "Jonah Hex" now.
The only other performance worth noting in the top 10 is the bizarre hold for "Prince of Persia: The Sands of Time." The Jake Gyllenhaal adventure fell only 19% with little to no explanation. Did a Ben Kinglsey sex tape leak and nobody tell me?
In limited release, "Cyrus" had a phenomenal start for Fox Searchlight. On four screens in three days, it earned $180,000, which is more or less the total gross for each of the Duplass Brothers's first two films. I still think their style is a little too esoteric for the Academy but if anybody can turn these grosses into some kind of Screenplay nomination (the token bone tossed to interesting, independent fare), it's Fox Searchlight.
"I Am Love" also had a decent start with $125,000 from eight screens. Magnolia doesn't have the pull to get any kind of awards traction going for Tilda Swinton so the superfans who comment here regularly shouldn't get too excited.
The Los Angeles Film Festival started this week and I've been busy supporting friends with films. You'll have to keep your eyes peeled on the festival circuit to try and see Brett Haley's "The New Year," but Aaron Katz's "Cold Weather" will be coming to the big screen and VOD through IFC Films so be sure to check that out when it does.
What did you guys see? That toy thing right? If you saw "Prince of Persia," explain yourself. Here are this week's top grossing films courtesy of Exhibitor Relations: