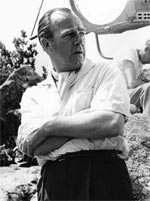 It's inevitable, but somewhat depressing, that most of the obituaries cropping up for British filmmaker Ronald Neame, who passed away yesterday in Los Angeles aged 99, mention "The Poseidon Adventure" at the top. (And look, I've only gone and done it myself.)
As a director, writer, producer and cinematographer, Neame's résumé is considerably more scattered and interesting than that hoary slab of big-studio Velveeta — including trick-laden DP duty on "Blithe Spirit," Oscar-nominated script work on David Lean's "Brief Encounter" and "Great Expectations" and a good run of unflashy but considered directorial efforts.
Second to "The Poseidon Adventure," Neame might remain best-known for directing Maggie Smith to her Oscar-winning (and career-best) performance in "The Prime of Miss Jean Brodie," but on the less tony end of the scale, he had a knack for peppy comedy, including two delightful capers with happily mismatched star duos, "Gambit" (Shirley MacLaine and Michael Caine) and the particularly underrated "Hopscotch" (Walter Matthau and Glenda Jackson).
But his crowning achievement, and his own favorite among his films, remains the military character study "Tunes of Glory," showcasing brilliant against-type work by both Alec Guinness and John Mills. (Coincidentally, I picked up a DVD copy off the bargain rail only a fortnight ago — UK readers, Fopp will sort you out.) If you feel like paying your respects, do him (and me) a favor and seek this over the sinking-ship soap.