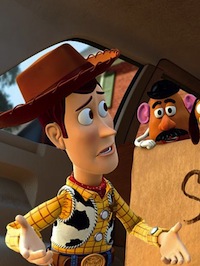 *All historical figures cited are adjusted to today's dollars.
Let's be honest here. Everybody likes toys. Everybody likes Pixar movies. Everybody likes Tim Allen. These three pillars of civilization will ensure that "Toy Story 3" has a gigantic opening weekend and ignites the box office in ways that will make Jaden Smith look like "Marmaduke."
It was fifteen years ago when "Toy Story" opened at the Thanksgiving box office and recorded a $53.3 million opening. Essentially beginning a new era of family film, the well-reviewed, Oscar nominated picture went on to gross $348.8 million and become the highest grossing film of 1995.
Four years later, a sequel intended to go straight to DVD instead came out in theaters and earned $89.8 million on opening weekend. Reviews were sensational, instantly becoming one of the most beloved sequels of all time and a final gross of $380.3 million makes it still the second biggest Pixar film ever.
The highest Pixar has reached is the $92.6 million opening and $447.9 million finish of "Finding Nemo." The expectations are for "Toy Story 3" to topple that first figure and with reviews already bordering on ecstatic, possibly challenge the second. It's a weak market, and if it really is true that audiences will only splash out for 3D on titles that are sure not to disappoint, then this should be the film that benefits.
I'm thinking a $115 million opening and the summer is Pixar's oyster. Congratulations to them for apparently delivering another critical/financial smash, but how about trying something new guys? Let's see if you can partner with the dudes who made "Meet the Spartans" and do an animated spoof film. If that comes out anything but awful, I'll start to believe there is Jesus juice in the water at that studio.
It's going to be a good weekend for anyone that passed on "Jonah Hex" in Hollywood. Warner Bros. decided it was a film that they needed to make and spent a small fortune to do so. They then spent a smaller fortune to re-shoot most of it and then spent next to nothing on marketing it.
Warner Bros. is no stranger to spectacular summer bombs ("Speed Racer" and "Battlefield Earth" are two of the most notorious) and they can add another to their resume here. If "Jonah Hex" makes more than $8 million this weekend, I'll eat my hat.
"The Karate Kid" should take a direct hit from Woody and Buzz, but still have enough power to keep $30 million or so going and blitz past the $100 million mark. Anybody with the foresight to bet on that or an Algeria-England stalemate is a very rich man right now.
"The A-Team" will drop a harsher 55% to $11 million or so, which is a performance as lackluster and lifeless as England was today against Algeria. Sorry Guy, but that was dismal. At least you've still got South Africa, er, nevermind.
Other holdovers will mostly fall around 50% as this is the toys' weekend through and through. Check back on Sunday to see if any records have been rewritten. In the meantime, it's all World Cup all the time for me.