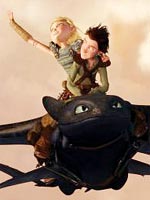 With the year nearly at its midway point, the Hollywood Reporter's Gregg Kilday has taken on the rather fruitless task of sussing out potential Oscar contenders from the last six months of releases. As you will no doubt be shocked to hear, he doesn't find many — declaring "Toy Story 3" the year's first viable Best Picture nominee (just as Pixar's "Up" wound up as the earliest release on the 2009 slate).
Not that this is a particularly new phenomenon. Bar the occasional "Crash," "Erin Brockovich" or "The Silence of the Lambs" — films that tend to grow into their Oscar-contender status rather than have it thrust upon them — studios tend to save their prestige product for the year's latter stages. Everyone and their pet lizard knows that.
But as Kilday points out, considering last year's expansion of the Best Picture field was a shameless grab for more blockbuster nominees, none of this year's summer (or spring) behemoths up to now could be deemed credible contenders. (That he even bothers to consider the chances of "Alice in Wonderland" is cause for major shuddering.)
I can't say I'm bothered by that. There's no reason why there should be a quota of mainstream nominees every year, and if this year's limp summer menu means a Best Pic lineup heavier than last year's on tonier, adult-oriented prestige titles, you won't hear me complaining. If those disappoint later in the year (as the 2009 crop did), and it just turns out to be a bad year, then things might get worrying — or interesting. Which way might voters look for back-up options to fill up 10 slots: thorny arthouse fare (say, "Winter's Bone") or lukewarm studio offerings (say, "Shutter Island")?
As it stands, the only serious above-the-line Oscar possibilities Kilday extracts from this discussion are the actress Jennifer Lawrence — whose Oscar-caliber performance in the abovementioned "Bone" we've mentioned several times already — and, of course, a certain pair of well-liked animated titles. Indeed, he floats the possibility of more than one toon cracking the 10:
The third "Toy Story" could become the first 2010 entry to make it into the circle of ten… This year, the debate could well center on whether more than one animated movie can hold down a spot in the best picture circle. DreamWorks Animation's "How to Train Your Dragon," released by Paramount, racked up some of the best reviews of the year to date, picking up a 98% approval rating at rottentomatoes. And Sylvain Chomet's "The Illusionist," which Sony Pictures Classics will release toward year's end, is not only directed by the creator of 2003's "The Triplets of Belleville," which collected two Oscar noms, it is based on an unproduced screenplay by the late Jacques Tati — one of cinema's greats.
(I'd love to believe him that "The Illusionist" is even a remote possibility for the top category, but I don't. A sentimental Best Original Screenplay nod, on the other hand…)
Of course, we only have to look a month ahead for things to start looking up. "Inception" remains one of the year's most formidable question mark, while the substantial, immensely likeable "The Kids Are All Right" needs only healthy box-office (something its clever counterprogramming release slot should enable) to slide easily into competition.
And if the first half of the year was low on Oscar-level releases, that doesn't mean considerable contenders haven't been seen. Of course, Kilday checks off Mike Leigh's "Another Year," which may have benefitted from a low-key Cannes crop to emerge as the festival's standout awards-season horse, but would merit such talk in any circumstances.
What he doesn't mention from the same fest, however, is performance vehicle "Blue Valentine" (likelier, I would wager, to show up somewhere than "Fair Game" or "Wall Street 2," both of which are listed) and the surest bet in any category this year, Charles Ferguson's "Inside Job." I'm not quite as high on this smart, nervy financial-crisis doc as everyone else, but even allowing for the wilful inclinations of this particular Academy branch, it's impossible to imagine a Best Documentary lineup without it. (I'd like to say the same about one of the year's most purely entertaining films to date, "Exit Through the Gift Shop," but "playful" is not a word in those voters' vocabularies.)
Anyway, let's resume this discussion in September, but which time perhaps Terrence Malick will have blown our collective minds and solved everything this year. Or not. Hey, who's stoked to see "Jonah Hex" this weekend?