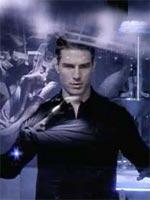 I love Steven Spielberg's 2002 "Minority Report" for a number of reasons — it's the director's most searching and adventurous film since a certain 1993 Oscar champ, it's got ideas as big as its set pieces and it'll likely remain history's only $100 million summer blockbuster to star Samantha Morton.
All good things. But what I like most about the film is that it contains one of the cinema's few visions of the future that I actually look forward to living in — I know I'm not the only person who was reduced to pre-adolescent gosh-wow effusiveness by its gadgetry. (For one, I know that any attempt to interest my mom in a faddish computer gizmo will result in the reply, "Until I can control the whole thing with my hands, like in "Minority Report," I'm not interested.")
Good news, mom: according to this neat piece in the Guardian's technology pages, we're getting there. Eight years after the release of Spielberg's film, journalist Charles Arthur offers a progress report of sorts on the film's various futuristic inventions — pointing out the significant strides already made towards the realization of dynamic iris recognition, personalized advertising (already broached in an online capacity) and even "pre-crime" technology.
As for the gesture-based computing that Tom Cruise performed with such stern-faced panache in the film, Arthur writes that our cellphones have already taken us part of the way there:
John Underkoffler, the MIT scientist who created the gesture-based computing that Cruise used in Minority Report, has developed his own company – Oblong Industries – to make it real and market it. But he has already been overtaken by companies such as Apple with the iPhone, offering "pinch" and "pull" and "swipe" for pictures and text since 2007. And of course by Microsoft, both with its new Kinect games system and its table-sized, touch-screen Surface, which lets you move things around with your hands.
My inner geek is thrilled about this. Indeed, the only people who shouldn't be are the film's brilliant (and scandalously Oscar-snubbed) production design and visual effects artists, whose work might be rendered quaint sooner than they'd like.