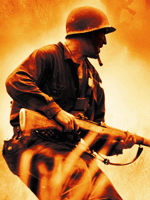 I haven't picked up a copy of Terrence Malick's "The Thin Red Line" on DVD because I'm so OCD.  As in, I can't stand the "Fox war classics" thing at the top of the case.  It's the same reason I have a love/hate relationship with my "John Wayne classics" version of "The Man Who Shot Liberty Valance." I know, weird, but I also thought Malick's film, one of the very best ever made, needed a big to-do from Criterion or SOMEONE willing to dig in.
It looks like I'm finally getting my wish, as Criterion will be releasing the DVD and — ZOMG! — Blu-ray this September.  This follows the recent Criterion release of "Days of Heaven" from the director.  And it's just in time for all the forthcoming "Tree of Life" buzz.
Count me stoked.  REALLY stoked.  I'm not sure what the specifics of the release are, actually, but I long for the day someone digs up all the footage and gives us that six-hour cut.  Is all of that lost to the winds?  I'm out of the loop.
Anyway, the sell-sheet cover art hit today, which typically eschews any poster art in favor of something more singular.  Check it out after the jump, but keep an eye on the official page for the film at Criterion for updates and, eventually, the "official" cover art for the release.