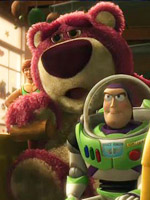 Pixar's "Toy Story 3" reduced me to mush, just like it has untold numbers of critics across the nation.  I'm so excited to see that 2010 has already seen two top-notch animated features, and a few of those still to come look intriguing to say the least.  But this one took a formula, injected it with more profound meaning than its two predecessors could have dreamed of, had the balls to keep its edge when push came to shove with the story's antagonist, and at the end of the day, put a big, bright, beautiful bow on one of the most beloved franchises in — I think we can say this now — cinema history.
The story was cooked up by Lee Unkrich, Andrew Stanton and Pixar Don, John Lasseter, but Michael Arndt was tasked with actual scripting duties.  His work is a lean vision of purpose, four years of hard work shining through.  The voice work is every bit as effective as it ever was, but all the toys in Andy's toy box seem to be even more distinguished in their own rights this time out.
Of course, this makes it all the more sad that we can't hear Jim Varney's Slinky Dog chime in, but Blake Clark gives it a decent go.  On the whole, though, we're looking at one of the best films of the year, easily.  And a studio that knows how to do the franchise thing well.
The LA Times put together a story pegging Pixar as bound by the same economic realities of the rest of Hollywood, hence the rash of sequels being developed by the studio.  But I think it unfortunately glosses over the point that this is a sequel every bit as compelling as an "original" concept, and frankly, more effective as part of a 15 year journey.  David Poland touched on that in a recent Hot Blog piece, but he's also using "Shrek Forever After" and "The A-Team" to help make his point, so maybe skip over those bits.
But back to the movie: it soars.  It really does.  It's about so many ideas and emotions, both adult and juvenile.  In some ways it flips the premise of the first film upside down.  Rather than detailing only a toy's responsibility to its owner, it explores the responsibility an owner has to his or her toy.  Does it simply collect dust and/or become a novelty item as one grows up, or can it live forever in the service of another?  "You can't take it with you," in other words.
It really is beautiful.  But maybe that's par for the course for a studio that consistently engages with mature material.
NOTE: I'm kinda, sorta retiring from full on "review" reviews.  So this is likely the kind of thing you're going to get out of me when it comes to film commentary throughout the season.  When you have someone like Guy Lodge turning phrases like a champ and running review circles around you, it kind of paints perspective for you. ;)  I never fancied myself a proper critic in the first place and prefer to be looser with the way I handle that aspect of our coverage, so for the record, it looks like "Invictus" gets the designation of being the last film I ever properly reviewed.