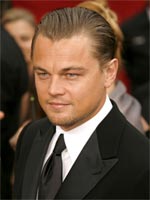 After three consecutive duds (in my book, anyway), Clint Eastwood will have to work hard to earn my anticipation again — harder, certainly, than dipping into the biopic well once more — but he sure gets full marks for persistence. Undeterred by his recent strike-outs with the Academy, he continues to assemble the most on-paper baity projects around — this time, a J. Edgar Hoover biopic written by Oscar-winning "Milk" scribe Dustin Lance Black and starring the Oscar-primed Leonardo DiCaprio. The only way this can miss is if it's even half as dull as, well, "Invictus."
The project, of course, has been in the ether for some time; Deadline Hollywood offers the following précis of its development:
The project began at Universal, where Imagine is based, but came together at Warners, which Eastwood's Malpaso has long called home. Imagine had been developing the Dustin Lance Black script for over a year before showing it to Universal, where the reaction was negative. But then Grazer got the screenplay to pal Clint (they did The Changeling and have had a personal relationship ever since), the two men met about it in mid-February, and the film has been on the fast track at Warner Bros.
Just one thing: now that it's been over two years since it first surfaced, can people stop referring to Eastwood's 2008 film as "The Changeling"? The latter is a 1980 horror flick starring George C. Scott; the former has no direct article in the title. Sorry, just a pet peeve.
Actually, a second thing: given that the past decade has seen DiCaprio work with such substantial figures as Christopher Nolan, Steven Spielberg, Sam Mendes, Ridley Scott and Danny Boyle, dismissively describing the actor as being in a "Marty Scorsese rut" is glib at best.
Anyway. As you were.