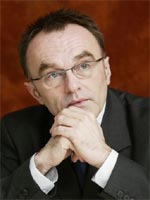 If you can tear your thoughts away from the World Cup for a second, cast your mind back to the opening ceremony of the 2008 summer Olympics in Beijing. Pretty spectacular, wasn't it? You might recall that that mammoth production was steered by Zhang Yimou, a one-time rebel filmmaker now safely enfolded into the system.
Organizers of London's 2012 Olympic effort have clearly filched the Chinese memo, as they've secured their own now-cuddly auteur as artistic director of their opening ceremony — one Mr. Danny Boyle. Not content with that, they have decided to double up on the movie names, tapping Stephen Daldry as one of four executive producers of the Olympic and Paralympic ceremonies.
(Clearly, in a complicated tribute to the last Olympic year, they're just running through the 2008 Oscar slate: I expect David Fincher is in charge of catering or something.)
From The Guardian:
Oscar-winner Boyle said he was honoured. "It's a completely unique opportunity to contribute to what I'm sure are going to be a fantastic games. I'm really excited to be involved."

Daldry said: "Myself and my co-executive producers will ensure there is creative continuity across all four ceremonies, that the public have real engagement and that we continue to attract into the key roles the best talent in the world. I'm delighted to be part of the team."
I imagine the selection of Boyle was made with the cheery, hopped-up vitality of "Slumdog Millionaire" in mind — no bhangra dance numbers featuring Dev Patel, please — while Daldry's stage work (notably his popular stage mounting of "Billy Elliot") is presumably more responsible than his low-key film oeuvre for getting him the gig. Which is precisely why it'd be nice to see both directors subvert expectations by staging a harrowing "Trainspotting"-themed ballet in the stadium, with stubble-headed hoofers emerging from grimy toilet bowls as Nicole Kidman delivers a stony-faced dramatic reading from "Mrs. Dalloway." That's television, people.
Assisting Daldry, by the way, is British live TV director Hamish Hamilton, an accomplished guy who nonetheless this year delivered perhaps the sloppiest Oscar telecast in memory. We'll try not to hold that against him.