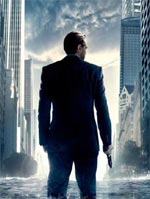 Yes, another "Inception" post — the wilting lettuce garnish and half-nibbled canapés that make up this year's summer-movie buffet aren't providing us with a wealth of conversation topics, you may have noticed.
Brent Lang's lengthy piece in The Wrap on the film's marketing strategy covers a familiar angle: positioning the film as the Great White Hope for original material in rehash-crazy Hollywood, while noting the commercial risks posed by its cerebral subject matter in the current climate. (Less familiar is the description of "Public Enemies" as a "high-concept" blockbuster — huh? — but Lang gets his point across.)
Two things in the article, however, struck me as worthy of mention. The first, which may or may not be significant, is that Lang relies largely on the internet community for quotes, tapping Drew McWeeny of HitFix, Mike Sampson of JoBlo, Steve Weintraub of Collider and Alex Billington of FirstShowing ahead of any print journos or industry representatives.
Perhaps Lang simply skews that way himself, but it's tempting to read into this a more prominent profile for the film in online (some might say fanboy) circles than elsewhere. Or, most likely, not.
The second relates to a split in opinion among those questioned as to the merits of the film's highly guarded, even oblique, marketing approach — with each new trailer carefully recycling the same limited footage and a tease-heavy viral campaign. For a film most are expecting to save the season, not many people have much idea of what it's actually about.
McWeeny praises Christopher Nolan for protecting his property like this in an era when trailers routinely cover at least two-and-a-half of a film's three acts, and I'm right there with him. (Full disclosure: I haven't actually watched the trailer, and don't intend to — par for the course with my most-anticipated titles, lately.) It seems others, however, are dissatisfied with the marketers' work:
[S]ome bloggers complain that "Inception's" online promotions have dealt too much with explication and haven't given viewers enough Easter eggs to justify the time spent. "Some viral campaigns really worked separate from the movie as entertainment, but this isn't one of them," Sampson said. "The ones that work better tend to be based on an existing property such as 'Tron' or 'The Dark Knight.'"

Further, some, such as Alex Billington at FirstShowing.net, have griped that the posters and their taglines "Protect Your Thoughts" and "Mind Crime Is Real" are infuriatingly vague.
With due respect to Billington, I say keep it vague — from posters to taglines to trailers. Few things are as exhilarating as walking into a film cold, piecing the premise together and learning the rules of the storytelling as you go. (It's a pretty stern test of a screenplay, too, given how many mainstream titles these days neglect essential character and situational set-up, assuming the marketing has already done the work. A friend who recently watched "Iron Man 2" with no knowledge of its predecessor or its source material told me it took her a good 20 minutes to figure out who she was supposed to be following.)
I first experienced this when, aged 15, I attended an advance test screening of "The Truman Show," knowing little more than the names of the talent involved. Needless to say, its revelations were as startling to be as they were to Truman Burbank himself. Outside of the festival rush — when it's all one can do to remember the title of the film one is scrambling to the theater for, much less the synopsis — it's not something I get to experience often these days.
For my money, then, the best-marketed film of 2009 was "A Serious Man," a thematically unwieldy beast of a movie that intelligently sold itself on strange, prickly atmosphere rather than any recognizable narrative hook. Of course, non-arthouse fare isn't allowed the luxury of being so wilful — in the final month before "Inception" hits screens, then, I hope Nolan et al continue to be as infuriating as they can get away with. In this of all summers, playing the game differently from everyone else can only be a good thing.