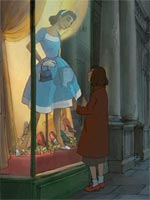 Last year's Edinburgh Film Festival served me rather well, giving me my first look at "Antichrist," "The Hurt Locker," "Fish Tank," "35 Shots of Rum," "Mary and Max" and "London River," all of which wound up in my Top 20 of 2009. (It was also where a little film called "The Secret of Kells" made its first awards bow, more than seven months before Hollywood cottoned on to it.)
This year's edition begins today; unfortunately, I'm unable to cover the entire fest this time, though I will be there for five days next week. Thanks to my other festival exploits this year, however, I am already acquainted with tonight's opening film, "The Illusionist."
I reviewed Sylvain Chomet's sublime beyond-the-grave Jacques Tati collaboration out of Berlin in February, and the film still sits comfortably atop my Best of 2010 list. Tonight's Edinburgh premiere should be a sweet one, given how besotted the film is with that very city.
More on the film, including a new trailer, after the cut.
I've already had my say on the film, so let me instead refer to David Cairns's smart review (complete with luscious large stills) posted today on Mubi (formerly The Auteurs). Cairns discusses the visible watermark of Tati's oeuvre present in Chomet's work, but draws the conclusion that the film ultimately belongs to one director only:
In the end, this is a Chomet film, as it had to be. Fans of Chomet will love it, and fans of both Chomet and Tati (which I confess to being) will really love it. Those who were able to resist the charm of Chomet's previous feature may not be so pleased, although the new film represents an advance in terms of use of colour: The Triplets of Belleville achieved its nostaligic feel partly by useing a restricted palette of mucus-hues intended to evoke sepiatone, whereas The Illusionist is as radiantly rich as Tati's own movies, without losing any sense of period.
Coinciding with the premiere is this new British trailer — it's a bit of a mess, in my opinion, but you can at least see the visual splendor on display. Sony Pictures Classics will open the film Stateside in November (I presume after a Toronto festival appearance), and I have no doubt that a healthy awards run will follow.
(Finally, just a pre-emptive strike against the trolls who insist on bringing up this story seemingly every time the film gets mentioned online: we're aware of it, we just don't deem it relevant. Good day.)