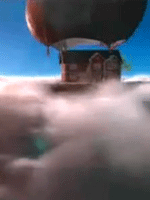 That seems to be the possibility put forth in this detailed /Film post, which concludes (somehow) that it was all a coincidence.  But truly, I wonder.  One of the commenters mentions "Finding Nemo" supposedly bearing a striking resemblance to a French children's book.
I have no answers.  None of consequence will likely be coming.  But it's interesting.  And a bummer of a story to hit just a few days away from the release of "Toy Story 3."
Check out the French short in question, titled "Above Then Beyond," after the jump. And cut loose with your thoughts in the comments section.  Total coincidence or something fishy?