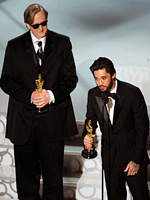 I've been meaning to address this nearly two-week old press release since I got back, but last year's Best Original Song winner has a new album coming at the end of the summer.  "Junky Star" from Ryan Bingham & The Dead Horses hits stores September 7.  An added bonus: T Bone Burnett, music supervisor on "Crazy Heart" and co-writer of the Oscar-winning track "The Weary Kind," produced the album.
"Burnett created a recording environment that perfectly complemented the themes and textures of Bingham's reflective songwriting," the press release reads.  "The tracks…range from narratives with vivid imagery…to introspective confessionals…to bluesy roadhouse stomps…to Sticky Fingers-era Stones."  Oh yeah, and according to Burnett, they finished it in three days.  Can't wait to pick it up.
You can hear a couple of songs from "Junky Star" at BinghamMusic.com.  Have a listen to a portion of one of them, "Depression," below.
[audio:http://www.incontention.com/audio/depression-brief.mp3]