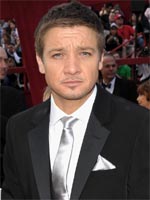 Every June, bloggers like to pick over the list of newly invited AMPAS members, seeing which recent nominees or long-serving industry stalwarts have been deemed good enough to vote for the Oscars. This year's crop has yet to be announced, but at least one invitee has been named: Jeremy Renner. Thanks to Steve Pond for sharing this minor but happy tidbit.
The "Hurt Locker" star — still, I think, the most deserving of 2009's Best Actor nominees — had his membership made public at Saturday's Student Academy Awards, by AMPAS president Tom Sherak:
Introducing actor Jeremy Renner, Sherak … called him "the very talented – and now, brand new member of the Academy, Jeremy Renner."

Beaming, Renner walked onstage and said, "Yeah, that does sound good, doesn't it?"
Lest you think the invitation is a mere formality following an Oscar nod, Pond reminds us that Jon Landau, the Oscar-winning producer of "Titanic" and "Avatar," has had his application for membership rejected twice since his 1997 victory. (Will producing the all-time highest grosser — again — do the trick this year?) So it's not as simple as all that. Congrats to Renner.