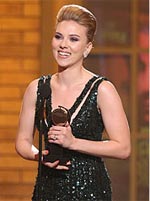 I wouldn't normally make much mention of the Tony Awards, which took place in New York last night — this being a film site, after all, and me being an entire ocean away from the U.S. theater scene. (That said, I saw yesterday's big winner "Red" on its initial run in London, and was suitably impressed. The play, incidentally, is by Oscar-nominated screenwriter John Logan, of "Gladiator" and "The Aviator" fame.)
Still, when the list of winners contains more Hollywood star power than in an average edition of the Golden Globes, it's hard not to pay attention. Denzel Washington, Scarlett Johansson, Catherine Zeta-Jones and Viola Davis all took home trophies last night, and while I have only second-hand critical word to go on, I am led to believe that this was merit-based starfucking.
The victory must taste particularly sweet for Johansson, who took Best Supporting Actress in a Play for her well-regarded turn in a revival of Arthur Miller's "A View From the Bridge." With the actress's screen work of late having made her something of a critics' punch-bag, this serves as a welcome reminder of her neglected talent — here's hoping this ushers in some suitable cinematic vehicles for it.
Zeta-Jones, meanwhile, rounded off an already good weekend by winning Best Actress in a Musical for "A Little Night Music." Singing appears to agree with her, awards-wise. Coming on the heels of her CBE in the Queen's Birthday honors, this gives us a second reason to think about her in a single weekend, just as she appeared headed for the "Whatever happened to…" ranks. Good for her. Now do something I can actually see.
Washington and Davis (soon to be seen doing stock best-friend duty to Julia Roberts in "Eat, Pray, Love") took dramatic lead honors for yet another revival, this time of August Wilson's race-relations drama "Fences." As Nathaniel Rogers points out, it's rather surprising that this hefty 1987 play has never been translated to the screen — perhaps the success of this star pairing could give prestige-hungry producers ideas.
Kinda-sorta adding to the movie-star count is someone who will be one soon enough: rising Brit thesp Eddie Redmayne, who has now taken both Olivier and Tony gongs for his supporting work opposite Alfred Molina in "Red," and looks set for the lead in Steven Spielberg's adaptation of "The War Horse."
More details, and perspective from people who actually know what they're talking about, here.