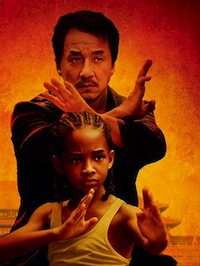 *All historical figures cited are adjusted to today's dollars.
After weeks of disappointing returns and underperforming titles, the box office was saved once again by Will Smith. Only this time he did it not by putting out a new film, but by having unprotected sex with his wife twelve years ago. His fairy dust box office genes have passed on to son Jaden, who stars in our number one movie this weekend, "The Karate Kid."
The groans were loud and plentiful when this remake was announced and even more so when Smith was cast. At some point, the groans must have turned into quiet, shameful anticipation as Sony saw a debut just a little shy of what major titles like "The Incredible Hulk" and "Mr. & Mrs. Smith" have done on this same weekend. $56 million to be exact, proving that audiences aren't exactly tired of Hollywood's unoriginality after all.
But let's focus on the positive. Summer 2010 was saved by a mid-budget film with all three main roles filled by minorities. Now that's original.
Fox's big budget adaptation of "The A-Team" required eleven writers to get Bradley Cooper's sarcastic quips just right, but audiences went with plan B (that gem only required one writer) and handed the motley crew a $26 million, second place debut. Considering "The Brady Bunch Movie" could open with $27.1 million and "The Dukes of Hazzard" even managed $38.0 million, there's nothing else to call this result but pathetic.
It'll be lucky to cross $65 million domestically and will join "Land of the Lost" in the pile of ill-advised wastes of money, brought to you by TV Land. Doesn't Will Smith have a cousin or something they could have put in this thing?
Three time champ, "Shrek Forever After," surrenders the throne and dips to third with $15.8 million. It crept passed the $200 million mark and is about to overtake "How to Train Your Dragon," but will still go down as the first $70 million+ opening, threepeating disappointment.
Second weekends were mostly brutal for last week's crop, denying any of them the opportunity to make any lasting impact at the box office. "Get Him to the Greek" fared best with a 43% drop to $10.1 million, but it won't match "Forgetting Sarah Marshall" and possibly not even "Funny People." The last four weeks simply gave us films that started slow and exited fast.
"Robin Hood" and "Iron Man 2" will pass $100 million and $300 million, respectively, tomorrow but their respective studios will be breathing sighs of relief rather than throwing parties and handing out bonuses.
Encouraging results were also found by IFC's "Joan Rivers: A Piece of Work" and Roadside's "Winter's Bone." Both films earned more than $20,000 per screen and set themselves up with a chance to be remembered come Oscar time. The Rivers doc is especially impressive, given that I assumed looking directly into that woman's face for 90 minutes straight would turn you instantly into stone.
This week I saw a bunch of films at the event I attended in Germany, none of which will ever cross your path. I also trekked over to the Vista for "Get Him to the Greek" on Thursday. I thought Russell Brand gave a seriously great performance in an otherwise awful movie. The message and lessons seem to be piled on thicker and thicker with each Apatow production and this was little more than a 90 minute anti-drug PSA. No thanks.
What did you guys see? Here are this week's top grossing films courtesy of Exhibitor Relations: