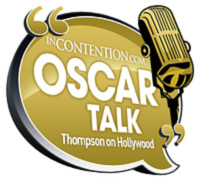 Welcome to Oscar Talk, your one-stop kudocast between yours truly and Anne Thompson of Thompson on Hollywood.
In the second of three off-season discussions, Anne and I address the following today:
• Since we haven't talked since Cannes, Anne talks about the stronger titles from the Croisette as well as various news and notes that came out of the fest.
• We're in the middle of the summer, and as far as we can tell, it's bleak out there. We discuss the lackluster box office so far and the potential hope of what's still to come.
• One of those hopes is Pixar's "Toy Story 3," which Anne enjoyed. Unfortunately, I haven't seen it yet.
• Another hope would be counter-programming, like titles such as "Winter's Bone" and "The Kids Are All Right." Anne and I discuss our feelings on each.
• Finally, we address the fact that all eyes seem to be on Christopher Nolan's "Inception," which will certainly dominate our next off-season podcast on July 16 (coincidentally the day of the film's release).
Have a listen to the latest podcast below. As always, remember to subscribe to Oscar Talk via iTunes here.
[display_podcast]