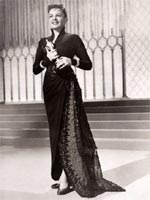 Regular readers will know that there is no current film writer, great or small, whom I look up to more than Nick Davis — a Chicago-based English professor whose blogging balances rich academic perspective with truly heroic levels of Oscar geekdom.
These two elements combined to form a lifelong project in which Nick resolved to see and rank every one of the 408 performances nominated for Best Actress by the Academy — reviewing 45 of them along the way.
Insane? Of course. Difficult? Have you tried to locate a copy of, say, 1929's "The Barker," with its nominated performance by Betty Compson? (The guy had to go to the UCLA Film & TV Archive to track it down. That's crazy dedication. Or just crazy.) But congratulations are in order, since Nick just completed this epic undertaking, saving Judy Garland's iconic turn in "A Star is Born" for last.
Here's a taste of his typically eloquent review:
She achieves so exemplary a fulfillment of every formidable ambition ingrained within George Cukor's brilliant film—a supernova of electric pizazz, an acute melodrama that pulls no psychological punches, a fond time-capsule of multiple forms and techniques of entertainment, and a metafilm about the production, the aesthetics, and the semiotics of Hollywood studio movies—that she actually makes you see what's missing, by comparison, in comparable characterizations as stupendous as Barbra Streisand's Fanny Brice and Liza Minnelli's Sally Bowles and Francine Evans.
There's plenty more where that came from, so go ahead and wallow. Nick hopes to turn all this effort into a book of sorts; if that sounds like something you'd buy — I know I would — let him know.