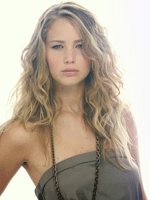 I have to say, I'm so willing to put my issues with Debra Granik's "Winter's Bone" aside it's not even funny.  Why?  Because Jennifer Lawrence is the real deal, and it's exciting.  She's only 19, which means we'll have years of surely stellar performances ahead.  And sue me, every time I see a pic, my heart skips a beat.
I shot an email off to "The Burning Plain" writer/director Guillermo Arriaga yesterday to mention all the Lawrence buzz that's accompanying the limited release of Granik's film, and to note that he could take some measure of credit for giving her that first opportunity to shine.  "She has a light of her own, big and bright," he replied.  "I was fortunate to be close to her.  I bet she will be nominated several times in her life.  You will see."
Hard to argue.  But this is that delicate time where you cross your fingers and hope she and her representation make all the right moves.  I really don't want to see Jennifer Lawrence glossed over as eye-candy in a comic book love interest role, okay?  No matter what the payday might be.  So, fingers crossed.
Meanwhile, the actress is hitting the interview circuit, getting a great feature in USA Today, which will do wonders exposing her to a large national audience.  Anthony Breznican sat down to discuss the vast differences between Lawrence and Ree Dolly, her character in the film.
There are a lot of comparisons to "Frozen River" floating around.  That film, of course, landed nominations for Best Actress and Best Screenplay.  Can Roadside Attractions manifest a similar destiny for "Winter's Bone?" We'll see how the platform release is handled first, but this is an opportunity.  They need to be first on the block with guild screeners (much like Sony Classics' approach with "River" in 2008).  And as long as Lawrence keeps the charm on, I imagine she'll be in good position to capitalize on all the critical momentum the film is enjoying.
More as it unfolds…