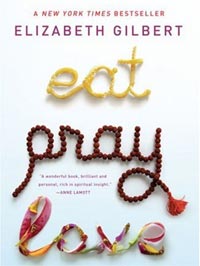 (Apologies for the delay in posting this column. Page to Screen will return to its regular Tuesday spot next week.)
Chick-lit, the unflatteringly named brand of light confessional writing intended to universalize the problems of modern professional women, has been a beast of a publishing phenomenon since the near-simultaneous arrival on the scene of Helen Fielding's "Bridget Jones's Diary" and Candace Bushnell's "Sex and the City" in the late 1990s.
Marked by clear Transatlantic cultural differences, those volumes were nonetheless linked by their semi-autobiographical nature, their urban media milieu, a similar issue slate of sex, career, mild vice and the ongoing hunt for Mr. Right/Darcy/Big and a tone of chatty journalese – both, after all, were spinoffs of popular newspaper columns.
They also have one other crucial thing in common: massively successful screen translations that continue to bear fruit. A third big-screen Bridget Jones outing is currently in the works, and you may have heard something about a film called "Sex and the City 2" this summer.
In Fielding and Bushnell's wake, then, have come a legion of female writers and journalists converting their personal experiences into bestseller status and swift deals with Hollywood: the success of such titles as "The Devil Wears Prada," "Julie & Julia," "Confessions of a Shopaholic," and the male co-authored "He's Just Not That Into You" hardly discourage the trend. (You could even argue for last year's "An Education" as an arthouse twist on the formula.)
So when New York-based author and essayist Elizabeth Gilbert managed to shift over 6 million copies of her Oprah-endorsed 2006 finding-myself memoir "Eat, Pray, Love," news of a film adaptation was little more than a formality. More surprising, however, was the name of the man eventually tasked with the job: currently-hot TV writer-producer Ryan Murphy.
Murphy's brand, carried through the series "Popular," "Nip/Tuck" and, most recently and successfully, "Glee," hinges on a fusion of glib bubblegum storytelling and acidic black comedy. His 2006 film directing debut, "Running With Scissors" (interestingly, also a memoir adaptation), attempted a similar tonal trick with less success.
Neither of those abovementioned tags (save for "glib") apply to "Eat, Pray, Love," an earnest, sometimes amusing but – even by the standards of the genre – suffocatingly solipsistic work that brings loftier intentions to the chick-lit formula: specifically, substituting the spiritual for the sexual.
After a bitter and self-initiated divorce, the 34 year-old Gilbert embarks on a year-long vacation journey of self-healing, comprising four months each in Italy, India and Indonesia. (The titular verbs represent her principal objective in each country.) The elusive Mr. Right in this chick-lit saga isn't a tall dark stranger (though – quelle surprise – she finds one of those too) but God himself.
Gilbert's God is less a religiously specific figure than a holistic spiritual guide toward her ultimate goal of emotional independence and inner balance, a quest she maps out with a finicky structural metaphor: the book is divided into 108 chapters (36 for each country), representing the 108 beads of the japa mala, the Hindu and Buddhist equivalent of the Catholic rosary. In her introduction, Gilbert rather grandiosely refers to her book as comprising 108 individual "tales," but that Calvino-esque conceit is merely a front for a discursive first-person travelogue that alternates between day-to-day journal-keeping and broader reflections on sensual and spiritual pleasure. Incident is kept to a minimum as Gilbert wanders idly through Rome, a rural Indian ashram and Bali: if these are indeed 108 stories, they all read remarkably similarly.
As such, "Eat, Pray, Love" poses sizable adaptation challenges to Murphy and his co-writer Jennifer Salt: the personal essay may be a viable literary form (and, whatever my reservations, 6 million copies says Gilbert has nailed it), but if the film is to succeed as a breezy bit of summer counter-programming, they need to locate a keener dramatic thread amid her musings.
Not helping is that the stakes seem so very low throughout: Gilbert may be in understandable emotional distress following her divorce (though her vague "I'm not the marrying type" rationale for leaving a loving husband isn't exactly a shortcut to the reader's sympathy), but she has a successful, fulfilling career and a strong support network of friends and family. We're in so little doubt that she'll eventually be okay that her neurotic spiritual quest doesn't give us much to invest in.
In the interests of emotional accessibility, Murphy and Salt would perhaps be better off contravening Gilbert's credo and putting romance first. (The casting of the not-unattractive pair of Julia Roberts and Javier Bardem suggests they might have gone that route, though it'll be interesting to see if Bardem's Latin lover enters the scene as late as he does in the book – only in the last quarter.)
Another dramatic obstacle (and irritation) is the absence of conflict or struggle throughout Gilbert's journey: she is successful in everything she attempts on her travels, be it finding friends, learning Italian, housing a down-on-her-luck Balinese friend or just funding the trip itself. (We should all be so lucky as to have a massive book advance fall into our laps from the sky.)
This might seem a churlish complaint, given that Gilbert's consistent success is portrayed as the positive effect of her spiritual rehabilitation, but that doesn't excuse the off-puttingly self-congratulatory tone that held this reader at arm's length: by the time she credits her successful mastery of Yogic prayer with telepathically curing her nephew's insomnia, one has to suspend a little vomit with one's disbelief.
Rarely have I read the word "I" so often in the space of 334 pages, but even if self-absorption is a familiar commodity in this literary territory, it's Gilbert's worthiness that makes her a less relatable heroine than a Bridget Jones, or even a Julie Powell. Happily, if anyone can temper that, it's Roberts, still one of Hollywood's most guileless leading ladies – and really the person on whom the film's fortunes rest.
It's been seven years since Roberts independently shouldered a project ("Mona Lisa Smile") on her name and personality, and though there have been prominent roles and even Golden Globe nominations (we may as well pencil in another for this) since, it's hard to shake the feeling that America's former sweetheart has been away. That makes this comeback vehicle, a story about a woman returning from her own wilderness, an apt one.
This is not the only way in which casting Roberts is canny and potentially beneficial. Now in her forties, the actress is a good deal older than Gilbert is in the book, and at a life stage which brings rather different pressures than those of the early-thirties. I don't know whether or not Murphy has her playing her age (Roberts certainly still looks 34), but I rather hope he tailors the part to his leading lady in this respect: closer proximity to a mid-life crisis could both raise the stakes and soften the protagonist.
Gilbert's sketchy peripheral players give little sense of what the film's fine supporting ensemble might have to work with: as a grizzly-but-sweet New Age savant from Texas, Richard Jenkins would appear to have the most scope for enjoyable hamming, while the book doesn't portend much more than stock best-friend status for the redoubtable Viola Davis. As Gilbert's assorted significant others, Bardem, James Franco and Billy Crudup at least promise more charisma than the page does.
If I haven't dwelt on awards potential, it's because the best-case scenario is for "Eat, Pray, Love" to emerge as the kind of attractive, summery star vehicle that looks so much easier than it is. Gilbert has gifted the filmmakers with geography and imagery (expect the luscious, Italian-set "Eat" section to dominate) that can't fail to pop on screen: with a production team that includes DP Robert Richardson and composer Dario Marianelli, we have every reason to expect a very pretty package.
For the rest to work, however, I'd like to see Murphy sharpen up his well-written but floppy source material with the sneaky wit and snappy pacing that he brings to his television work. "You need to learn how to select your thoughts the same way you select your clothes," a friend advises Gilbert at one point in the book. It's advice that could have been doled out to Carrie Bradshaw herself — and though "Eat, Pray, Love" doesn't follow it in print, hopefully the movie will.