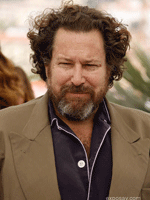 Apologies for the two week dry spell.  I thought I'd be able to update along the way as I trekked out to Ohio to play meet the parents (which, thankfully, couldn't have gone better), but alas, quick stops in hotels and 10 hour driving days made that much more difficult than I thought it would.
Anyway, I'm back in pocket now with a (relatively) cleared out schedule for the rest of the summer.  Nothing much is happening on the western front besides the Seattle film fest.  Chad is out of town for the moment and couldn't put up the box office columns, but it appears "Shrek Forever After" took the top spot for a third-straight week.  I don't imagine anyone has much to say about that, in any case.
Two nuggets dropped today, however.  The first involves Julian Schnabel's "Miral," which is a heavily anticipated, potential Oscar title for many readers and could be a play for "The Visitor" breakout Hiam Abbas.  The Weinstein Company has acquired domestic distribution rights, adding to a stable that already includes Sundance titles "Blue Valentine" and "The Company Men," as well as "The King's Speech" and UK hit "Nowhere Boy," among others.  It'll be interesting to see how that very Sony Classics-esque slate is handled during the season.
Also announced today is the expected title change for "Betty Anne Waters," which will now be known as "Conviction." There's something sterile and frankly boring about that on-the-nose choice, but the film still looks like a potentially baity one regardless of what it's called.
That's all for now.  Anne and I will be back with another Oscar Talk this Friday and Monday should bring another Off the Carpet column.