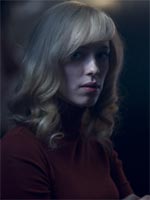 I wouldn't ordinarily mention the BAFTA Television Awards — generally treated as the ugly sister of February's film awards ceremony — which were dished out in London tonight, but one win in particular strikes me as worth noting.
You know by now that I'm a great admirer of Julian Jarrold's "Red Riding: 1974," which was released theatrically in the U.S. a few months back, and of Rebecca Hall's remarkable performance in it. Hall just won a well-deserved Best Supporting Actress BAFTA, and since it's almost certainly the only awards hardware she'll end up taking for her work, I thought it worth celebrating. (The whole series, incidentally, did less well than one might have expected, taking only two other craft trophies for cinematography and costume design.)
Other film-related wins include Samantha Morton's strong directorial debut "The Unloved" — also treated as a theatrical feature outside the UK — for Best Single Drama, and a triple trophy haul for "The Thick of It," the sitcom that mothered 2009 Oscar nominee "In the Loop." Huzzahs all round. Full list of winners here, if you're interested.