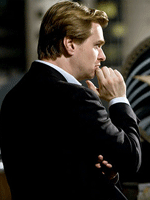 It's not much, nor would it be.  Nolan offers his stand-by "I work on one film at a time" line, but the meat of what he says in a forthcoming Empire magazine interview:
"[The third film will be] the finishing of a story rather than infinitely blowing up the balloon and expanding the story."
And:
"No, [the Joker will not return or be recast].  I just don't feel comfortable about it."
That ought to get a few foaming-at-the-mouth fans through the next month or so.  In the same interview Nolan goes on to talk about adopting Superman to a "modern context" and his position that cross-over mentality goes against the grain of what Superman and Batman are all about.  Coming Soon has tons of quotes from the article, which isn't online right now.