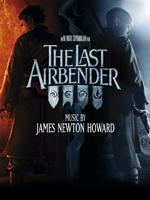 When I took my initial stab at the 2010 Oscar forecast a few weeks back, I went out on a limb in a few places for M. Night Shyamalan's "The Last Airbender," which I've frequently said could be a disaster or something really special.  One of those limbs was Best Original Score, as James Newton Howard could potentially land his sixth nomination in the category.
Howard has lately become a perennial favorite with the Oscars. His most recent nominations came for "Defiance" (a film that didn't do well in other categories) and "Michael Clayton" (for a score few could remember when his name popped up on nomination morning). And let's not forget his saving grace work in "The Village," which was also recognized.
His score for "The Last Airbender" has already been released via iTunes for a $9.99 download, and it's packed with all of Howard's usual percussive intensity and has just the right touch of epic strokes to perhaps be recognized come year's end. Additionally, a rave review of the work has already popped up online.
Here's a sample of the work, the first track, "Airbender Suite," which is a broad blend of all the score's elements (no pun intended):
Audio clip: Adobe Flash Player (version 9 or above) is required to play this audio clip. Download the latest version here. You also need to have JavaScript enabled in your browser.
At Soundtrack Geek, Jorn Tillness has this to say of the track:
Let's get back to the 'Airbender Suite' which is 11 minutes and 17 seconds of pure delight. It contains all the themes, all the action, all the adventure, all the love and all the emotion. Every second of this is wonderful. The first part from 0:00 until 1:13 is just the intro. From there you will truly be amazed by the bold and wonderful music James Newton Howard has made. It's an epic piece that just rolls off your eardrums and it's so effortless. You know those 3-hour movies that seem to end so quickly? If this was a 3 hour movie, it would seem like a minute really. It's so fantastically fun and frantic. It contains an amazing action piece from 7:59 until 9:12 with massive orchestral sound, choirs, percussion… the works.
He goes on to praise just about every ounce of Howard's work. Now we'll have to just wait and see how the film turned out. It releases Stateside July 2 for the holiday weekend and, according to a recent Tweet from producer Frank Marshall, will have a considerable presence at tomorrow's MTV Movie Awards.
(Thanks to Hardy for the heads up.)