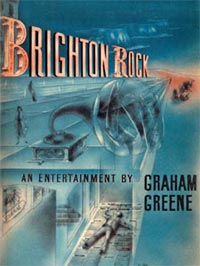 Welcome to 2010's first installment of Page to Screen, our summer series in which I spotlight the source material behind some of the year's most notable forthcoming adaptations.
After a spectacularly prescient 2009 season – in which I blew my load over "Chéri," largely dismissed the awards potential of "Up in the Air" and didn't even notice "A Single Man" hovering in the wings – I'm all set to further prove the vast creative chasm that can lie between paper and celluloid, amplified by the fact that this year presently looks shorter on prestige literary adaptations than most.
When in doubt, however, it is best to begin with a classic – and if there are many 2010 titles adapted from classier sources than Graham Greene's 1938 novel "Brighton Rock," I am not yet aware of them.
"An Entertainment" is the rather perverse subtitle Greene attached to his novel on its initial publication, thus distinguishing it from what he regarded as more serious literary output; he could be as snootily blasé about his own oeuvre as a studio-dabbling auteur. Certainly, the descriptor isn't unmerited: "Brighton Rock" is a tight, terse little underworld thriller, easily devoured in a single day of reading, with a blatant view, even then, toward the mainstream movie-house.
But if the novel is "an entertainment," it's a markedly bleak and searching one, using a relatively straightforward suspense narrative – hinging ultimately on the "will-she-won't-she" survival of a single character – as a decoy of sorts for an unsettling, ambiguous investigation of human morality and spiritual damnation.
It may take place amid the scuzzy, ale-swilling gangsters of the titular British seaside resort, but there's a deeper, darker vein of Catholic guilt running through Greene's story than in almost any Mafia narrative; legal, practical and ecclesiastical standards of Right and Wrong float in and out of view of each other as sociopathic anti-hero Pinkie Brown's world closes in on him after an escalating series of murders by his hand. "I don't want absolution. I want to be like him – damned," Pinkie's child-bride Rose earnestly admits at one point, and the novel commits neither to lauding such conviction or scolding such naïveté.
This is troublesome and troubling thematic territory for a so-called entertainment. So while the novel's previous screen outing – John Boulting's excellent 1947 film that was ludicrously retitled "Young Scarface" for the U.S. market – preserved some of its heady religious bother (Greene himself co-scripted, after all), it was inevitably declawed in some respects, with an ingeniously devised but ideologically softened ending that hinted at marginally more hope for Pinkie's soul than the novel permits.
It's here – the promise of uncensored Catholic candor, not (or not only) more vivid lashings of razor-induced violence and sex – where debut director Rowan Joffe's upcoming new version seems most exciting and potentially necessary. Those hoping for a slavish heritage-style adaptation, however, will already have been warned off by the announcement that Joffe's film transfers Greene's narrative from the world of 1930s spivs to that of 1960s mods.
If the adaptation is suitably thoughtful, the change should have implications beyond the cut of the protagonist's shabby, skinny suit. As a 17 year-old boy precociously playing gang leader to a group of older men, Pinkie is an anomaly who could be more empowered in an era postdating the invention of the teenager; it'll be interesting, too, to see if the 16 year-old waitress Rose remains as unworldly, in a rock 'n' roll milieu now geared more towards her generation, as the resourceless dormouse of the novel. (At 29 and 28, respectively, stars Sam Riley and Andrea Riseborough are visually ideal, but have rather more life behind them than the children described by Greene, which may or may not be a concern.)
Age aside, Riley (in his first film lead since an arresting debut in "Control" three years ago) and the role of Pinkie should be a mutually beneficial match. The actor has just the right dolefully acrid presence for the part, which will repay him handsomely in scenery-chewing opportunities – the shift in period will also help sidestep comparisons to Richard Attenborough's semi-legendary turn in the 1947 film.
Helen Mirren, meanwhile, will hopefully relish a rare dip into working-class characterization, though she should avoid going too broad as Ida Arnold, the aging good-time girl whose chance encounter with one of Pinkie's imminent victims puts her on the young hoodlum's trail. Ida's self-righteous sleuthing ostensibly casts her as the heroine and conscience of the novel, but Greene doesn't let things lie quite so patly: there's an unseemly narrow-mindedness to her quest that renders her, in her own way, quietly tragic. "Brighton Rock" is a less a thriller of cat-and-mouse than of multiple scuttling, lonely mice, and it should be played as such.
Mousiest of all, however, the actor and character to keep an eye on here – and Kris's sidebar prediction suggests people are doing just that – is Riseborough as Rose. Taking over from the initially cast Carey Mulligan, Riseborough in fact has the more aptly gauche, spooked physicality for the part. Rose is the novel's most wholly sympathetic player, but her complete absence of self-belief, her desperation to be loved without any sense of what love might (or should) feel like, renders her almost as frightening a presence as Pinkie. Theirs is one of the saddest anti-romances in literature, and it's the actress playing Rose who is gifted with the fallout.
This all sounds spun rather far from the taut suspenser that Greene begins with the irresistibly compulsive line, "Hale knew, before he had been in Brighton three hours, that they meant to murder him." But the novel straddles these levels by shuffling elegantly between the perspectives of the principals, some of whom see things more prosaically than others.
If this seems a cinematic conceit, that's no accident. Greene, who wrote "Brighton Rock" halfway through his tenure as film critic for The Spectator, had his mind on a screen adaptation from the outset; in his introduction to a new edition of the novel, J.M. Coetzee quotes Greene thus: "When I describe a scene, I capture it with the moving eye of the cine-camera rather than with the photographer's eye – which leaves it frozen … I work with the camera, following my characters and movements." (Coetzee goes on perceptively to note possible allusions to the work of Howard Hawks and Alfred Hitchcock in the novel.)
As such, Greene is saying what I don't have to: that this is a novel that essentially adapts itself. (It should be added, not least from an awards perspective, that Greene's intricately imagined Brighton – all smoky, oaky public houses and gaudy pier attractions – is a production designer's dream, whether circa 1930 or 1960.)
As writer, Joffe (who previously co-wrote Pawel Pawlikowski's wonderful "Last Resort," and who we'll return to later in this series as writer of "The American") should be on safe ground; as first-time director, he'll need to work closely and carefully with his editors to maintain the dazzling balance of high pulp and high tragedy that characterizes Greene's most conflicted "entertainment." I eagerly await the results.
Next week: Something completely different, as I take on Elizabeth Gilbert's mega-selling chick-lit memoir "Eat, Pray, Love," soon hitting your screens with Julia Roberts.