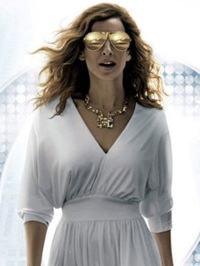 *All historical figures cited are adjusted to today's dollars.
The number one movie over the long Memorial Day weekend is "Shrek Forever After" with $55.7 million. That's the lowest amount for a chart-topping film over Memorial Day since "Casper" in 1995. While Paramount will be delighted to hold on to the top spot and claim a morale boosting 39% dip for the jolly green giant, it won't mask the fact that this weekend was kind of a disaster for studios and theater owners.
Dropping 39% over the three days and only 21% is a sorely needed win for "Shrek Forever After." That gives it much better legs than the last installment and saves it from recording an embarrassing total. When it's all said and done, it will still be the lowest grossing film in the franchise, but it will handily pass "How to Train Your Dragon" at least.
The runner-up spot is a toss up. "Sex and the City 2" claimed it on the three day weekend, but estimates have "Prince of Persia: The Sands of Time" overtaking it for the four day. But let's start with the lovely ladies. Carrie Bradshaw and company started on Thursday with $14.3 million, as previously reported. For a Thursday, that was fine as long as the Friday saw a significant uptick. But it didn't.
Instead, that Thursday will be the best daily gross that the film records and it's already started its rapid descent out of theaters. $31.1 million for the three days is a significant decrease from the original and $51.4 million over five days is roughly what the first film had after two. Exit polls showed that the audience this time around was an insane 90% female, indicating that far fewer men allowed themselves to be dragged to a second round of torture. This is the second sequel in a row to post significant audience erosion and I like what I'm seeing so far this summer. Good work team.
"Prince of Persia: The Sands of Time" earned $30.1 million for the three days and $37.8 million over four. As a comparison, let's just say that "The Animal" opened with $27.5 million on the same weekend in 2001. That's right, the movie where Rob Schneider gets animal genes and dry humps mailboxes. "Bruce Almighty" debuted with $113.0 million over its four days in 2003. Simply put, for a blockbuster with this price tag and these ambitions, "Prince of Persia" is an epic fail.
Overseas grosses are already encouraging but I'll be surprised if it passes $100 million domestically and that will put it on the same level as Bruckheimer's previous classic, the $88.2 million grossing "Kangaroo Jack." Speculation is a little less focused on why this failed to catch on but the reviews were poor, audiences were skeptical of Gyllenhaal and it's really starting to seem like this is just not going to be a summer of careless spending by moviegoers.
Holds for the other big films were mostly slightly below average but "Letters to Juliet" again posted the best hold in the top 10, representing a small bright spot among the leftovers. A three day drop of 35% and four day gross of $7.3 million still only gives it a modest total of $38.0 million after three weeks, but Summit will take that when seeing what's going on with everything around it.
One such thing is the 62% drop for "MacGruber," which only averaged $746 per theater over the four days! That's $187 a day. Luckily, the character is no stranger to bombs. Hey-oh!
I didn't see anything this week and frankly, feel great about it. I've had a picnic in the park, read a Groucho Marx book and gone bowling. I head to Germany on Wednesday so I'm not sure I'll get the Life Without Oscar or Friday Forecast column out this week. We'll see what my set up is when I get there.
What did you guys see? Here are this week's top grossing films, over the three day period, courtesy of Exhibitor Relations: