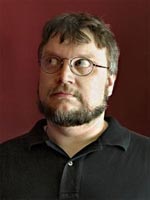 You've probably heard the news by now, but in case you haven't, here's a précis via Variety:
Guillermo Del Toro has dropped out directing "The Hobbit" movies due to the ongoing delays in getting the films greenlit. Del Toro made the surprise announcement Sunday on The One Ring web site, adding that he will continue to co-write the screenplays based on J.R.R Tolkien's "The Hobbit."

"It's not greenlit," he told reporters. "That's categorical. We've been caught in a very tangled negotiation. There cannot be any start dates until the MGM situation gets resolved. They do hold a considerable portion of the rights."
I appear to be the only — well, maybe not the only — person on the internet not crushed by this news, so feel free to vent and speculate in the comments. Who would you like to see take up the reins? I hear rumors it's a close-run thing between Béla Tarr and Brett Ratner.