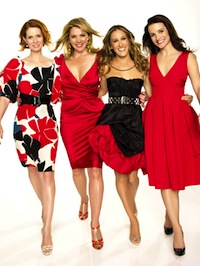 *All historical figures cited are adjusted to today's dollars.
There's a mild controversy every time a "Sex and the City" movie comes out where it is mercilessly trashed for existing by male critics who, the accusation goes, often let comparable trash starring men get off easy. Well, you all know that I can not be labeled one who lets any trash off easy so I have free reign to say that anyone who looks up to the women in this movie is probably a terrible person and I weep for humanity that this will be another big hit for Warner Bros.
"Sex and the City 2" has already opened and earned $14.2 million yesterday. Is that good? Yes. Is it great? No. The first film made $29.6 million on its opening day, albeit being a regular Friday and then dropped drastically to record a weekend tally of $63.2 million. As far as opening days being front-loaded in a weekend, "Sex and the City" is one of the top 15 worst offenders ever and sequels tend to be even worse. But since it's just a Thursday, no need to panic yet.
I suspect the film will pick up slightly to around $18 million on Friday and then record around $45 million for the weekend, before adding another cool $8 or $9 million on Monday. All told that will be close to $70 million in five days and set the film up for a profitable run. For some reason, the original was enormous overseas and that should again be the case. But seriously ladies, have some self respect and put your considerable weight (bad choice of word?) as a consumer behind something that doesn't make you look like a worthless idiot.
Disney and Jerry Bruckheimer desperately attempt to recapture the same magic of "Pirates of the Caribbean" with "Prince of Persia: The Sands of Time." I mean, it's pathetically obvious. Leading man with no action experience and indie cred? Check. Setting determined based on Halloween costume potential? Check. Skeletons holding swords tucked into the corner of the poster to add supernatural element? Check. Too bad early word is that Mike Newell dropped the ball and anticipation is generally muted.
Granted, the first "Pirates of the Caribbean" film opened with a down-to-Earth $61.5 million and rode positive word of mouth to a mammoth finish. Even with the holiday weekend, I can't see "Prince of Persia" coming close to that. This is going to be another very disappointing weekend for theater owners and studios and Jake Gyllenhaal and company are going to be the biggest reason. I'm thinking $35 million for the three days and maybe $45 million for the four day period.
Luckily, the film will have broad appeal overseas (although methinks perhaps not in Persian areas) and earn a profit for Disney. Are you guys seeing a trend yet? No matter how disappointing the numbers are, these things all eventually earn just enough to justify the green light. That's why they get the green light. Hollywood has you all figured out just enough to get by so if you want to see some changes, throw them a curveball!
Regardless and domestically speaking, that would be two more films that fail to maximize their potential and leave summer 2010 still looking for it's first positive surprise. Where's the "Star Trek" of this summer? Hint: It's "Marmaduke."
"Shrek Forever After" has two choices. It can perform like a typical generic sequel and drop 50-60%, officially becoming an embarrassment, or it can take advantage of the relatively weak market and drop a respectable 35% aided by the holiday weekend. I think it's probably going to be closer to the former as $20 3D tickets don't really lend themselves to the ambivalent crowd. If people want to just see something, they'll probably choose "Iron Man 2" or "Robin Hood" instead.
As for "MacGruber," well, Universal would probably appreciate it if I just didn't bring it up again. R.I.P. MacGruber.
What are you guys seeing? Why not take a break from terrible movies and roast some hot dogs on the beach instead?