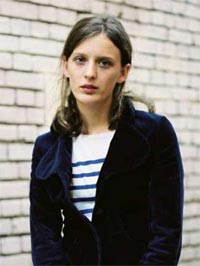 As film critics continue to pick over the spoils of Cannes 2010, for regular cinemagoers, it can take an awfully long time for the movies in question to trickle down to them.
Case in point: Mia Hansen-Løve's remarkable sophomore feature "Father of My Children," which impressed critics and won a special jury prize in the Un Certain Regard strand a year ago, but is only now wending its way to U.S. theaters. It opened last week in Los Angeles; tomorrow, New Yorkers get to lay eyes on it.
They'll find it worth the wait. "Father of My Children," which I reviewed out of the London Film Festival last October, is a marvelously mutable, personal study of family and film, beginning as a story about one thing and ending as quite another. Reviews and marketing materials may make it difficult to remain innocent of a key mid-film development — not a "twist" by any means, but a turn that entirely shifts and deepens the focus of the narrative — that floored me on my first encounter with the film. (I've done my best to keep it wrapped, but will insert a spoiler alert anyway.)
This much I can tell you: the film is inspired by, and ultimately something of a tribute to, the late Humbert Balsan, a prolific French film producer and renowned champion of the arthouse. Before his premature death in 2005, he shepherded works by the likes of Lars von Trier, Claire Denis, James Ivory and Béla Tarr, but also acted as mentor to rising talents — the young Hansen-Løve, then an aspiring filmmaker and sometime Cahiers du Cinéma critic, among them.
Her film closely fictionalizes Balsan as Grégoire Canvel (Louis-Do de Lencquesaing), a similarly harried producer and family man whose affinity for challenging independent projects commands immense industry admiration, but has nonetheless led him into a world of financial trouble. As matters bottom out, the strain is extended to his wife and three daughters, with the eldest (de Lencquesaing's own daughter Alice) particularly bruised in the fallout.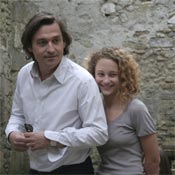 For Paris-born Hansen–Løve, now 29 years of age, the film was her own way of coming to terms with Balsan's passing. "Meeting Humbert was very much a determining event in my life," she explains, by phone, from Los Angeles. "He had this external radiance hiding so much suffering, and that contrast was very beautiful to me."
"In a sense, writing is mourning. When you write a film, you're trying to make sense of things, to make meaning of what has happened. By writing this, I was mourning for Humbert, but I was also dealing with a lot of people who aren't in my life anymore."
Though the character of Canvel is a guiding presence throughout the film, Hansen–Løve was determined that his family be embedded at the heart of the story. "I very much wanted to make another film with children," says the director, who recently gave birth to her first child with her partner, renowned French filmmaker Olivier Assayas. She refers to her 2007 debut feature, "All Is Forgiven," which also traces a young girl's attempt to deal with the destructive actions of her father.
"I'm interested in stories about family, about relationships, fragile things," she continues. "For me, even though it's very much a story about the film industry as well, it was necessary to the balance between work and family. Thinking of Humbert, it's about the presence of a soul after it is gone: will he survive through his children or through his work, his films?"
Balsan himself had two daughters, now aged 17 and 20, and while Hansen–Løve met them at the funeral ("I was so impressed by their dignity, how stoic they were"), she thought it important to maintain some distance as she went ahead with the film.
"I don't know [their reaction to the film] for certain, and it's probably better that I don't," she says. "I got to know his wife a bit after his death. She understood what I was doing, she didn't try to influence anything. I wanted to be clear that this was my response to what happened. I'm not speaking for anyone else. In a way, we did have something of a father-daughter relationship. Humbert was always looking for the future, always going forward."
Domestic narrative concerns aside, "Father of My Children" is also as wincingly incisive a portrait of the current state of independent film production as we've yet seen; Canvel's uphill battle to keep multiple projects afloat — including one by name auteurs — in the face of indifferent financiers marks the film as something of a cautionary tale to those in the ailing arthouse scene.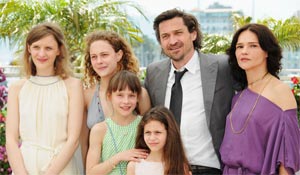 "Originally, I was reticent of describing that film world in such depth. Considering it's only my second film, I thought I was too young, too much of a virgin, to be making a film about that. But when filmmakers show the industry on screen, they often do it in a very heightened, archetypal way. I just wanted to make a portrait of what it's like to work in the industry today on an everyday basis. I don't necessarily mean it as a defense of a certain type of filmmaking; I just want to show the challenges we're all facing."
Hansen–Løve, at least, seems to be ably negotiating said challenges; her third feature, which she describes only as a story of "two adolesecents mourning their first love," begins shooting in July. Meanwhile, she continues to bask in the warm critical praise surrounding her second — though she is vexed by the number of reviews focusing on that mid-narrative flip to the exclusion of all else. (More than one critic has invoked ludicrous "Psycho" comparisons.)
"It's annoying when I hear of it as trick, or twist, in the film, because it's not meant to shock. It's simply meant as a reflection on the presence or absence of a person, how quickly that can change. I'm not interested in tricking my audience … to remain authentic is the most important thing."