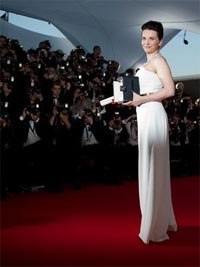 "Hey, that's no way to say goodbye," you might have thought (or even sang, in gravelly Leonard Cohen tones) after my rushed response to yesterday's Cannes winners. But having recharged overnight with a hearty curry and a good 13 hours' sleep, it's time to properly put a bow on Cannes 2010.
Perhaps it was quite a Tim Burton-flavored festival after all. Jury presidents at Cannes often seem at pains to choose the last film anyone would associate with their own work — which is partly why I picked the sober ecclesiastical drama "Of Gods and Men" for the Palme — but Burton and his cohorts swung in a quirkier direction. "Uncle Boonmee Who Can Recall His Past Lives," which I flippantly likened to a parallel-universe take on Burton's own "Big Fish," becomes the first fantasy film (of a type) to take gold at Cannes since "Miracle in Milan" almost 60 years ago. (More surprisingly, it's also first Asian winner since 1997.)
I wish I could personally groove to the film the way almost everyone else does (my C+ grade sticks out like a sore thumb on indieWIRE's critic score roundup) but objectively speaking, it's the best choice Team Burton could have made for the Palme: the undisputed critical favorite of the festival, a wholly unique, challenging piece from a distinctive major auteur, and a film that can truly benefit from the award in securing international distribution that could prove elusive otherwise. Plus, it won me £50 on a Palme bet I made weeks before the fest started. I'm liking the film more already.
If I'm feeling pleasantly sanguine about the outcome, Juliette Binoche has a lot to do with it. All the jury's choices were respectable — that oddball Best Director nod for Mathieu Amalric is growing on me by the hour — but in their one move that mirrored my personal picks, the French icon took Best Actress for my own favorite film of Cannes 2010, Abbas Kiarostami's ingeniously coded relationship study "Certified Copy." She owned the awards ceremony with a lengthy but stirring speech in which she addressed the hot-button issue of Iranian director Jafar Panahi's imprisonment.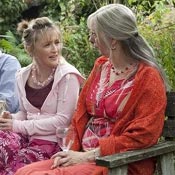 Admittedly, the jury would have been hard pressed to make a bad choice in this category: in any other year, the wonderful Lesley Manville or Yun Jung-hee could have won in a walk. But a second viewing of "Certified Copy" brought home the subtly astonishing character-within-character games Binoche plays throughout the film, and her heartbreaking final scene raises the performance to the ranks of her finest screen work.
Not only am I thrilled that this award neatly completes the actress's career trophy cabinet — in addition to her Oscar, BAFTA and Cesar, she now joins only Sean Penn and Jack Lemmon in claiming the festival awards trifecta of Cannes, Venice and Berlin — but  I'm doubly pleased that she now has a major honor to show for her latter-day career transition from queen of beautifully aloof sadness into a slightly kinder, more careworn screen presence in films like "Flight of the Red Balloon," "Summer Hours" and now Kiarostami's wonder.
In many ways, my favorite working actress was also the patron saint of my first Cannes trip. Not content with starring in its best film, her face also looked out on us all along the Croisette from the official festival poster. Finally, she was also present for my own most treasurable Cannes experience: my first walk up the red-carpeted steps to the Grand Palais theater for the evening gala screening of "Certified Copy."
As I got to the top, flash-blinded and sweating slightly in an Aquascutum tux that still seems entirely too classy for me, I turned around to see Binoche (radiant, luminious — when you see her in person, all the clichés apply)  just beginning her own slow ascent before getting hustled inside by vigilant festival staff. I can be a cynical bastard a lot of the time, but having dreamed of being in that exact spot since I was about 11 years old, I don't mind admitting that I got something in my eye.
For that alone, Cannes 2010 would have qualified as a hit for me. From a critic's point of view, sure, the festival was a disappointment. Great films were in notably short supply in both the Competition and Un Certain Regard selections, and even those didn't qualify as revelations: the films I liked most — "Certified Copy," "Another Year," "Blue Valentine," "Poetry," even Oliver Schmitz's "Life, Above All" — were films for which I already had high expectations beforehand.
But as one colleague said to me on the last day as we were comparing notes on our favorites, "You only need to fall in love once at a festival to make the trip worthwhile." As "Certified Copy" immediately joins "The Illusionist" (another film I wouldn't have seen yet if not for the privilege of festival-going) atop my Best of 2010 list, and as several days' distance convinces me that Mike Leigh's latest is among his greatest, I can hardly disagree.
The films, in any case, are only a portion of the festival experience. I'll have as many fond memories of Cannes that take place outside a darkened theater: feeling like an impostor with Sasha Stone at the super-swish Abu Dhabi beachfront party, drunkenly chatting with Atom Egoyan at the Petit Majestic, fictionally scuffling with Jeff Wells over the merits of dweebs and hot dogs, discovering the joys of Cointreau ice cream at the gaudy 1950s-themed ice cream parlor near the Palais, having Michelle Williams remember me from our 2008 phone interview in the most touching way possible ("Aw, you're the guy whose dog died!"), and, on the last day, swapping cracks with fellow journos in the most fun game of the festival, "Retitling 'Burnt By the Sun 2'."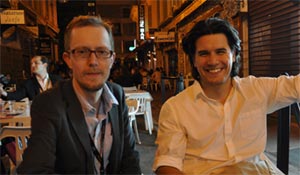 (As pleased as I am with "Burnt By the Sun 2: Armed and Fabulous" and "Burnt By the Sun 2: Havana Nights," I think someone else won hands down with "Burnt By the Sun 2: The Deadly Art of Illusion.")
So before I put a lid on my Cannes coverage for the year, I'd like to take a moment to toast some of the friends and acquaintances (some old, most new) whose company helped the 12 busy, espresso-fuelled days fly by: Sasha Stone, Anthony Breznican (pictured right with yours truly, image courtesy of Sasha), Anne Thompson, Cédric Succivalli (who earns extra credit for generously getting me into the aforementioned gala screening), Jeffrey Wells, Shane Danielsen, James Rocchi, Aaron Hillis, Erik Anderson, Dave Karger, Pete Hammond and more, with a special MVP mention to my Cannes roommates Matt Noller and Mike D'Angelo.
And with that, I'm out. I hope you've enjoyed reading my coverage as much as I've enjoyed writing it, even if it was occasionally with matchsticks propping up my eyelids. We'll do it all again next year, if Cannes will have us.