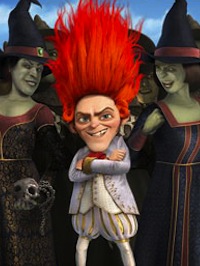 *All historical figures cited are adjusted to today's dollars.
We did it guys! Collectively, we have decided that the Shrek property, after three dreadful installments, is no longer an untouchable juggernaut, but just a regular old extremely profitable movie. We have also decided that summer 2010 is going to give movie theater owners a lot of headaches, for which the only prescription is to make popcorn $17 and sell ads on the back of the chairs in front of you. Enjoy!
Let's clarify. "Shrek Forever After" is the number one movie at the box office with $71.3 million, instantly becoming the most pathetic film ever to make $70 million in three days. Why? Maybe because "Ice Age: The Meltdown" can debut with $82.6 million in March? But mostly because "Shrek the Third" debuted with $140.5 million in 2007. When you factor in the fact that "Shrek Forever After" probably earned most of its coin from inflated 3D prices, you are looking at less than half the tickets sold from one film to the next. That's an almost unprecedented exodus for an established franchise like this.
General fatigue with the characters and the universe is the obvious explanation, but that still only takes you so far. We're three weeks in now and summer 2010 is posting up consistently disappointing numbers. Granted, "Iron Man 2" and "Robin Hood" came in right around expectations, but the lack of an encouraging or surprising box office performer so far this summer is cause for concern.
You certainly won't find any encouragement in the performance of "MacGruber." It takes a special kind of awful performance to be an unmitigated disaster when your budget is only $12 million. "MacGruber" gave us that special kind of awful with $4.1 million and sixth place. Not only is it easily the worst wide opening for a "Saturday Night Live" spin-off, but it's the fourth worst opening of all time for a film on 2,500 screens or more. Only "The Rocker," "Lucky You" and "Hoot" have done worse.
I guess opening movies isn't Will's forté. A-thank you and please tip your waitress.
Opening at number ten is "Kites," and unless you have Indian heritage, you've probably never heard of it. It's the first Bollywood film to ever make the top 10 but that has more to do with the overall market being so anemic than the performance of the film. A $1.0 million gross from 208 screens is good, but par for the course with Bollywood titles and it'll drop like a stone from here.
"Robin Hood" falls 48% to $18.7 million to continue its uninspiring run. Overseas markets are eating it up, as expected, so the status quo remains for all involved. "Iron Man 2" drops 49% to $26.6 million and may not even top the gross of "Iron Man." In this climate, that's a failure.
"Letters to Juliet" was the lone bright spot of the week with a respectable 33% drop. With an underwhelming debut, though, that still brings it down to $9.1 million and it's hard to get too excited about a $27.4 million running total. Drops will have to get even better for me to start being impressed.
So what's going on people? Are we deliberately avoiding the big guns this summer? Sending Hollywood a message? I'm all for it and I've been doing it since 2006 pretty much by myself. This week, though, I saw "Thorn in the Heart." I was literally the only person at the 3:10 Wednesday show at the Sunset 5 so it's not like the indies are having it much better. I liked the film a lot though and you should try to seek it out if you can.
What did you guys see? Here are this week's top grossing films courtesy of Exhibitor Relations: